Texas Today Is The U.S. Tomorrow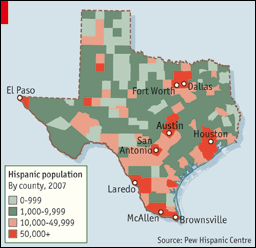 [Editor's Note: Victor Landa wrote an editorial for Fox News Latino entitled, "To See America's Future, Look at Texas" on March 1.]
My colleague Victor Landa recently wrote an editorial addressing the surge of Latinos in Texas' Census numbers. I thought it was really good and so wanted to share some of it here with you all, although it's pretty much the same thing we've been saying at News Taco for the past few months: Latinos are the future of the nation.
But, Victor points out, Latinos have been the past and the present already in Texas:
So as the Latino presence grows and spreads east and north, some of the questions being asked are not so new: Can Latinos integrate? Where I live we've been America lovin' Texans for many generations – spilled blood on foreign soil, built businesses, and did the work that needed to be done. Will newly-arrived Latinos assimilate? Define assimilation. I often speak Spanish among family and friends, but my kids are as American as any other – they act the same, talk the same, dress the same and listen to the same music louder than I'd like. Will Latinos change American politics? Forty-one percent of Latinos are eligible to vote, and every year half a million Latinos turn 18 – do the math.
The fear that's spreading across some places, namely Arizona, then is unfounded. What's happening in the U.S. isn't something new, rather it's a continuation of what we've seen happen in this country time and time again. There's no need to be afraid, just aware.
Follow Sara Inés Calderón on Twitter @SaraChicaD
[Image Courtesy 
Pew Hispanic Center
]