Latino Racial Slurs is the top trending topic on NewsTaco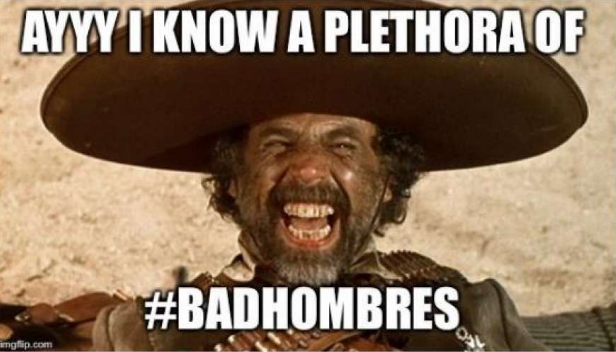 By Victor Landa, NewsTaco
It's a story written and posted in 2011 and this past week it got the top number of page views of all stories published in NewsTaco, almost 20 percent of the total.
We're not complaining, but the day that got the most "racial slur" views was Wednesday the 19th, the day of the last presidential debate, the day of Trump's infamous "bad hombres" remark.
While I looked into our little analytics petri dish I didn't know whether to hold my nose or be amused. Why the spike? (Why did we write that piece in the first place? But that's another conversation . . . ). My knee-jerk thought is to blame Trump for the interest, and by default that would mean that non-Latinos are coming to our site (I think Latinos already know these words because they've been flung at them in obvious ways). So by default as well I'd have to thank Donald for the traffic on our website. This has been a strange political season . . .
What's certain is that more people feel they have permission to use these words in public, tossing them at people they think look Latino. It's also certain that Trump is the catalyst for that permissiveness, and that not all non-Latinos are closet bigots.
It says a lot about the racialized time we're living, about how biogotry is bubbling at the surcafe of otherwise polite conversation. ?It says a lot as well that most of the traffic to the "raciual slur" story came from a site called The Racial Slur Database. It might be a place where folks go to fine tune their verbal bigotry – although the editors include this fineprint disclamer: This database was created entirely from data gleaned off the 'net and via submissions from people like you and your parents. It's supposed to be funny and/or informational. Calm down. 
By the way, these are the slurs included in the piece, in the order they were written;
Greaser, Grease Ball – words related to being greasy or dirty
Wetback, Mojado, Wab – words related to being wet and crossing the border (Guadalupe Hidalgo be damned!)
Pepperbelly, Chile Sh*tter – words related to eating chile
Berry Picker, Orange Picker – words related to manual labor
Border Bunny, Border Hopper, Border Rat – words related to being from the border or crossing it
Cans, Bans – words related to the ending of Latinos' countries of origin, such as MexiCAN, cuBAN, etc.
Latrino – Latino + latrine
Beaner, Nacho, Taco, Jalapeño – words related to stereotypical food
José, Chico, Hombre – words related to "typical" Latino names or patronizing words
Hombre is at the bottom, but it made the list.
---