NewsTaco Podcast Network, Episode 3: Latinos and the presidential election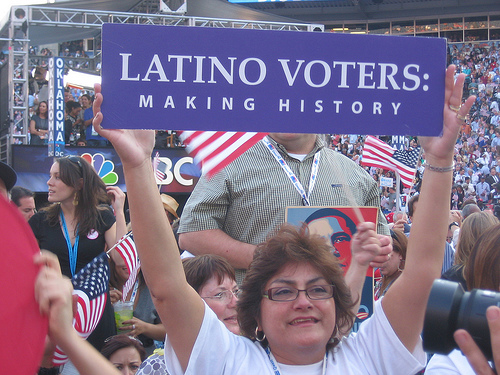 By Victor Landa, NewsTaco

I catch up with Pilar Marrero, Senior Political writer for La Opinion in Los Angeles. She had an idea that we should try doing regular political podcasts, being that this election is giving Latinos so much to talk about.
The headlines and the points of interest change so quickly with this election that it's difficult to keep track if you're interested or keep score if you're invested in the outcome.
We'll try to give the news some perspective.
We're family at NewsTaco so I feel free to mention that this wasn't the best  recording of a conversation. I spoke to Pilar over a phone call so the first part of the podcast is glitchy. I ask that you stick with us for two reasons: the connection gets better, and we're working on making the quality better for the next time around.
We recorded this the day after the Texas primary so there are some references to that. Let us know what you think.
---
---
[Photo courtesy of 
West Side Republicans
]
Suggested reading
What´s at stake if don´t deal with immigration reform in an honest way? Nothing less than the future of the country. A book by journalist Pilar Marrero
As the US deports record numbers of immigrants and local and state governments scramble to pass laws resembling dystopian police states where anyone can be questioned and neighbors are encouraged to report on one another, violent anti-immigration rhetoric is growing across the nation. Against this tide of hysteria, Pilar Marrero reveals how damaging this rise in malice toward immigrants is not only to the individuals, but to our country as a whole.
Click HERE to buy this book.