Obama Woos Latinos, Ignores Them At The Same Time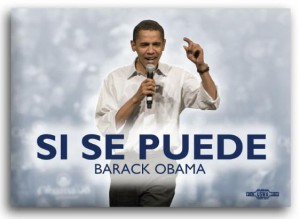 My colleague Victor Landa wrote a great piece on Latinos and the ways in which President Obama is trying to outreach to them yesterday. Here's an excerpt:
The president chose to talk about education in his town hall meeting. Education has been, for many, many years, the most impotrtant issue for Latinos in poll after poll. It hasn't been until recently that immigration crept-up the ranks in opinion polls, and that mainly because of the fervent and relentless anti-immigration drum beat from the extreme right.
This morning the Associated Press followed suit with their own story with the thesis that President Obama is pursuing the Latino vote using education as the carrot to lure them to his side in 2012. Here's an excerpt from the AP story:
…a White House keenly aware of its failure to move any significant immigration legislation, and of tough immigration enforcement that has led to a record number of deportations. These factors could seriously affect Obama's credibility within the Hispanic community just as he needs to hang onto that critical voting bloc for his 2012 re-election bid…

The administration has tried to court Hispanics through other non-immigration issues before. There was an effort to draw attention to how Obama's health plan helps Hispanics, who are more likely to be uninsured, and how his push for increased spending on Pell grants benefits Latino students who can't afford college.
The fatal flaw in this plan, as I wrote previously with the dearth of Latinos on his staff, is that Obama and his crew are trying to boil a large, powerful and diverse body of population and of voters down to a single issue. That's ridiculous on many levels, but especially in the face of a story we published yesterday examining the effects of the budget cuts on Latinos: instead of trying to find "an issue" to lure Latino voters, why not just create more than one good policy that benefit Latino families?
It's this distilling of the Latino community down to a voting bloc that ultimately ends up allowing politicians to think that they only have to give us "one thing," as opposed to good policy in general. I, for one, hope to be doing a huge push for Latino voter registration and voting on News Taco and I hope you'll joins us, but the fact remains that we're going to have to pressure the Obama Administration and others like him to do more than pander, and actually produce good policy.
Follow Sara Inés Calderón on Twitter @SaraChicaD
[Image Courtesy
Facebook
]