VIDEO: David Montejano on the History of the Chicano Movement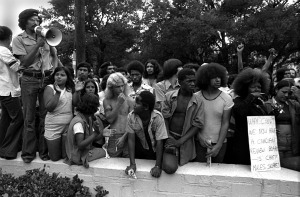 We pick up where we left off.
UC Berkeley Professor David Montejano sat with NewsTaco to chat about his new book "Quixote's Soldier's– A Local History of the Chicano Movement, 1966-1981.″ In first part of the interview (cut into five distinct segments) Montejano talked about the beginning of the Chicano movement in the barrios of San Antonio; how barrio warfare turned into political activism;  how revered congressman Henry B. Gonzalez kept a secret file on the movement and it's actors; and how conflicts within the San Antonio's Latino community caused deep political rivalries.
This time around the chat get juicier.  Montejano tells us how another icon of Latino politics, Henry Cisneros, actually lost the Latino vote in his first political campaign; how the Raza Unida Party was born of the energy and vision of San Antonio's Chicano movement; how tensions within the movement caused a rift among the leadership; and how the women of the movement asserted themselves.
Henry Cisneros Loses West Side Vote
RAZA UNIDA PARTY IS BORN
NO TIME FOR POLITICS: Brown Berets vs Raza Unida
GENDER TENSIONS: We don't want to be tamal makers
LEADERSHIP AND DEMISE
Who is the third? That would be Henry B. Gonzalez, but I'll leave what Montejano said about him as a tease – you'll have to buy the book to find out. It's a good read and I recommend it.