Government Relief Less Likely To Reach Latino Businesses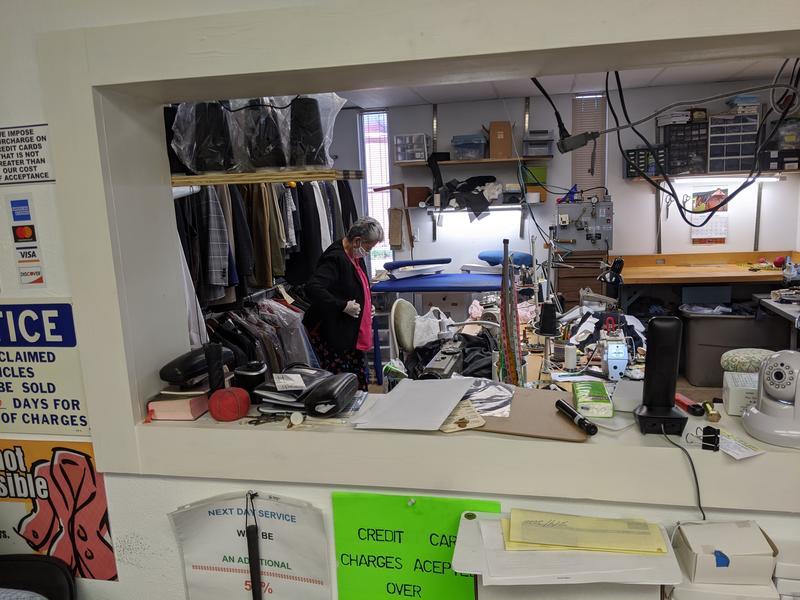 Paul Flavhive | Texas Public Radio
For Latino business owners this downturn is looking bad becasue they are more likely to face funding gaps and then turn to personal loans and credit cards.
Latino communities may face a generational setback in growing wealth, as the pandemic-driven downturn exacerbates an already present gap in funding for their small businesses.
Juan Rios sits among the buttonhole, tacking, and sewing machines at his business Chicago Custom Tailor Shop on San Antonio's North Side.
The four room shop is a snug fit. There's little opportunity for social distancing. The sound of a single sewing machine floats through the transom from one of the small rooms behind Rios. One of the tailors was altering some pants.
The tailor cuts the pants loose from the machine and lays the scissors down with finality.
They can do anything you need, Rios said over the sound. At that moment Rios was considering trying something he's never been able to do in 24 years — get a business loan.
"It's gonna be tough. Being a small business like me, nothing coming in already. Gotta pay the bills anyway," he said with a thick accent.
Rios moved to San Antonio from Chicago 25 years ago and even before that he used personal loans to fund his businesses — some with as high 18% interest.
The banks told him his business was too small, he remembers.  The shop has never had more than seven employees at a time, and is now down to two plus him. The few times he attempted the loans influenced him to stop trying.
"I do not know exactly what it is. We are too small and they [may have been] afraid we are not gonna pay for it. That's what I think — part is discrimination probably," he said.
Bank loans to small businesses under $100,000 dropped across the board by nearly 50% between 2007-2018, according to federal data. It shows small, minority-owned businesses struggle to access bank financing.