At 100, Odon Cardenas, ex-POW still hears the 'Screaming Mimis'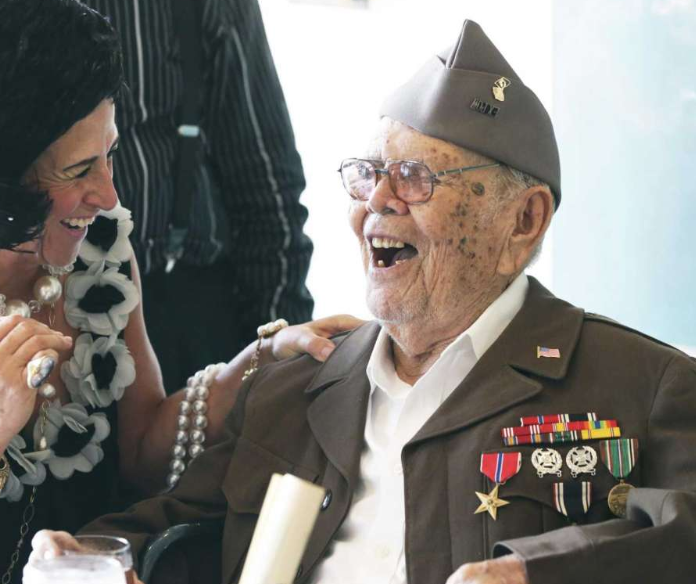 One of the 100 year-old-veterans celebrated at the Super Bowl coin toss is a Latino - Ex-POW and Battle of the Bulge survivor Odón Cárdenas.
Excited at the chance to mark the milestone of his birth to the minute, Odon Cardenas stayed up until midnight, even as the whole family fell asleep.
He was, after all, turning 100, and if you ask how he's feeling these days, Cardenas will say great — but of course he never expected to live so long.
"Never! Never," he said. "Now that I'm 100, I feel the same like 20 years back. I really don't know how I felt 20 years back and 20 years forward. I really don't know the difference. All I know is I'm here, I came from the war, and that's it."
If 100 is the new 80, there are reasons he feels good. At a big birthday bash Saturday evening at the Plaza Club downtown, five cakes were set out for him and the guests.
He might have indulged himself with a small slice along with a little ice cream, but he'll skip most of the sweets and is disciplined that way, having oatmeal for breakfast and lunches and dinners with lots of vegetables and beans, some chicken but not so much meat.
No pork, and no alcohol — he's had only one beer in his entire life.
Cardenas was an Army staff sergeant who fought in World War II. He's been a fruit picker, mechanic, barber, devoted father and survivor of fierce winter battles in Europe that closed with a short stint as a POW. He was never wounded.
How Cardenas made it home is a miracle of sorts. There were firefights, mortar attacks and close calls with the dreaded German Nebelwerfer, a rocket launcher GIs called the "Screaming Mimi" and "Moaning Minnie" because of its high-pitched sound.
Sitting in an overstuffed chair in his South Side home a short walk down the street named for the general who led him, George S. Patton, he talked of guiding his men through thick snow. They'd throw themselves into the drifts as rockets whistled past and crashed around them. At times while telling the stories, he would mimic the sound of the infamous Nebelwerfer.
Cardenas fought under Patton in the Ardennes, Rhineland and Central European campaigns. His most vivid memories center around the fighting during one of the coldest winters Germany had seen in ages. On the front lines, Cardenas and his unit were ambushed. Several comrades were killed. Crawling through the thick snow, they retreated over the next 24 hours.