LatinX Voters Will be a Core 2020 Voting Bloc. Are Democrats Paying Enough Attention?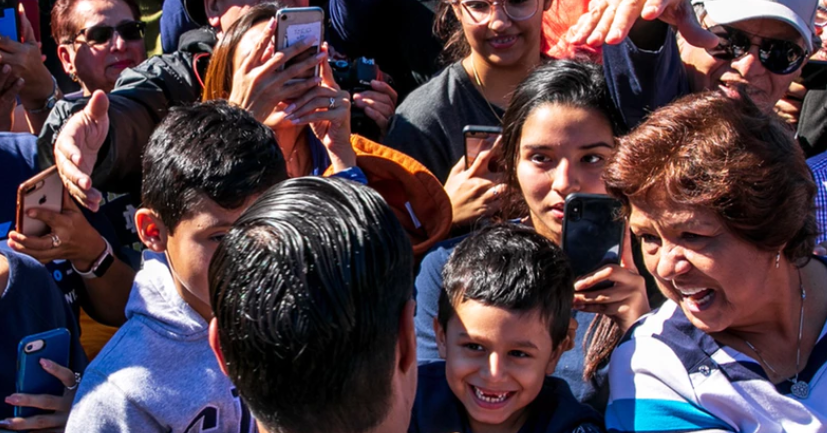 The Intercept - Ilana Panich-Linsman/The New York Times via Redux
This article is about a month old, but the question remains and the issue is still pertinent. Worth a read.
DEMOCRATS RUNNING FOR president are awakening to the reality that Latinx voters, poised to become the largest nonwhite eligible voting bloc in 2020, are crucial to their chances of winning the presidency. The desire to connect with Latinx voters was apparent in this week's presidential debates, when several contenders made a direct appeal to the growing electorate by answering questions in Spanish on the national stage. The Democrats' recognition of the importance of Latinx voters extends beyond the meme-like performances in Miami, though — in a number of campaigns, outreach to this community of 29 million people has become a core part of strategy.
Among the front-runners, the campaigns of Sens. Bernie Sanders and Elizabeth Warren have been building outreach operations to engage with Latinx voters in early primary states, while former Vice President Joe Biden has been criticized for not doing enough to engage the community.
The Intercept reached out to the campaigns of the leading Democratic candidates; some of them, citing debate prep, said they were unavailable to discuss outreach to Latinx voters, while others did not respond to requests for comment. Just four candidates responded to our questions; Biden, Sanders, and Warren's campaigns said they have brought Latinx organizers onto their staff and are focusing efforts on Nevada, while former Texas Rep. Beto O'Rourke's campaign said he is committed to ensuring his campaign staff reflect the diversity in experiences and backgrounds of all Americans.
"We know that we're going to communicate with young Latinos in English, we know we're going to communicate with young Latinos in Spanish," said Chuck Rocha, a senior Sanders adviser. "We also understand the cultural differences between Latinos in Des Moines, Iowa, and Latinos in the East Side of Las Vegas."
Sens. Cory Booker and Kamala Harris have both done interviews with Univision's "Despierta América." Former Secretary …