Texas OKs Mexican-American studies curriculum under new name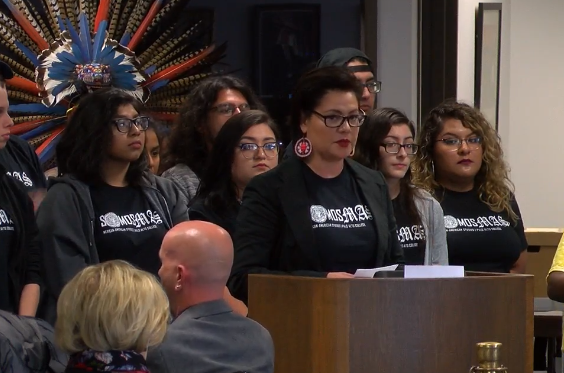 WOAI-TV
This is good news at face value. There are still some critics who don't like the name, they'd rather it not be called "Ethnic Studies: An Overview of Americans of Mexican Descent."
The Texas Board of Education on Wednesday gave preliminary approval to creating statewide academic standards for a Mexican-American studies high school course — but only after changing the name to "ethnic studies," which conservatives argued is less alienating for other groups of people.
The issue has been hotly debated for years in a state that was once part of Mexico and where a majority of public school students are Hispanic. The vote was a small but key victory for supporters of including more in classrooms about the contributions of Mexican-Americans throughout Texas' history, but the name change reflects how contentious that remains.
The Republican-controlled board voted to begin working on a statewide curriculum for a course known as "Ethnic Studies: An Overview of Americans of Mexican Descent." A final vote is set for Friday.
Four years earlier, the same board refused to approve a full, statewide Mexican-American course. Texas' 1,000-plus school districts were instead allowed to create their own, and many did, including a course offered by schools in Houston, the country's seventh-largest school district.
The idea was for a consistent state framework that would make it easier for administrators and teachers wanting to create Mexican-American studies courses in their school districts to do so. But how calling it "ethnic studies" may change what gets taught remains to be seen.
"I don't subscribe to hyphenated Americanism," said David Bradley, a Republican from the Gulf Coast city of Beaumont who proposed the name change. "I find hyphenated Americanism to be divisive."
Democrats bristled, but didn't have the votes to stop the change.