Recipe: Quesadilla – Why It's All About Technique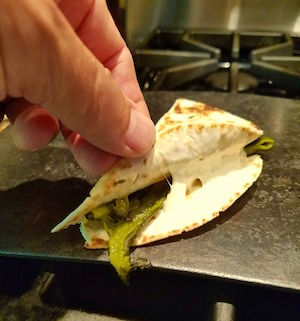 *Adán Medrano gives us a fundamental culinary truth – do the basics brilliantly. VL
---
NewsTaco FOOD FRIDAY
By Adán Medrano, Adán's Blog  (2 minuter read)  
I was 10 years old when I first tasted a quesadilla, cheese melted inside crisp wheat flour tortillas.  It's a cliché to say so, but it was love at first bite.
In the more southern regions of Mexican cuisines they use corn tortillas, but here in the Texas Mexican region we most often use wheat flour. Of course we also use corn.  A quesadilla is all about simplicity and basics.
But you can't microwave them, nor can you just fold them and heat willy-nilly.  It's not soft, it's not a taco.
The quesadilla is crispy on the outside without being hard, and it's moist on the inside, the melted cheese providing a contrast. You need really good melting cheese and good tortillas. Aside from the flavors, you've got to pay attention to the mouthfeel:  it's crispy then creamy then soft then crispy-crunchy.  I could eat a whole dozen.
This recipe is for a basic quesadilla.  You can add roasted chile poblano or mushrooms or other.  But keep the focus on the tortilla and the creamy cheese.  It's all about technique, comal technique.  It's super simple but you gotta do it right.  As Faculty/Chef Hinnerk Von Bargen at The Culinary Institute Of America always reminds his culinary students:  "Do the basics brilliantly!"
Read more recipes in NewsTaco. >>  
Recipe For Basic Quesadilla
Ingredients (makes 1 dozen)
3 oz. Chihuahua cheese, grated (you can use Monterrey Jack)
1 dozen flour tortillas, store-bought
Method
First of all, I ask patience from my Chicana and Chicano quesadilla makers who already know how to do this so effortlessly.  We do it at home all the time.
I like to give specific instructions so that  anyone can make great quesadilas and enjoy with friends.
1. Heat a comal, griddle, to F300º
2. Place tortillas on the hot comal and let them roast slightly,  until they become golden and crispy, about 30-45seconds. Remove from the comal and place on a plate, roasted side up. Spread  1 Tbs shredded cheese on one half.  Fold  it shut.
3.  Return it to the comal and cook one side for about 15 seconds, then turn it over and cook the other side for 15 seconds.  Keep doing this until the exterior is very crispy and golden but not burned.  The cheese will melt.
It's brilliantly simple. Serve hot.
This recipe was originally published in Adán's Blog. 
Adán's Blog