Food-cart initiative puts Latino entrepreneurs on a path to their dreams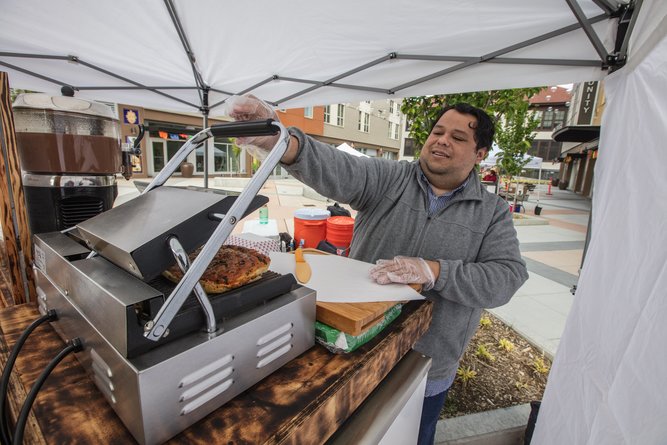 NewsTaco MONEY WEDNESDAY
By Janet I. Tu, The Seattle Times (4.5 minute read)
For Albert Saade, the pupusas, vaho and salbutes he serves up at his new food cart on Beacon Hill aren't just a way to make money. They're a way of sharing his heritage and a first step in fulfilling his longtime ambition of owning a food business.
These are the foods of his childhood: the pupusa — a Salvadoran dish of thick corn tortilla filled with meat, cheese or beans; vaho — a Nicaraguan dish of meat, plantain and yucca steamed in banana leaves; and salbute — a fried tortilla topped with chicken, cabbage, tomatoes and other items is especially popular in Belize.
"I want to present this type of flavor in Seattle, to present my heritage to the people of Seattle," said Saade, a 51-year-old Capitol Hill resident who moved with his family from El Salvador to the U.S. nearly 40 years ago.
His food cart, called La Mesa Azul, offers seven dishes from the seven countries of Central America.
It's one of six food carts that recently opened for business at Plaza Roberto Maestas, the mixed-use affordable-housing development built by community organization El Centro de la Raza, and it opened in October.
The food-cart program is part of El Centro's vision for Plaza Roberto Maestas: to provide not just housing for low- and moderate-income families, social services, office and retail space, and a community gathering spot, but also education, technical assistance and space for those who want to start their own microbusiness.
The goal with the food-cart program, said Gricelda Montes, who manages the asset-building programs for El Centro, is to give participants the tools, knowledge and space to start or grow their businesses, helping enrich the economy of the local Latino community and the city as well.
---
---
Do you like stories that reflect authentic Latino life in the U.S.?
Be part of a positive change.
---
---
Seattle Times