Texas Governor launches preemptive sanctuary-city lawsuit. MALDEF says it's on!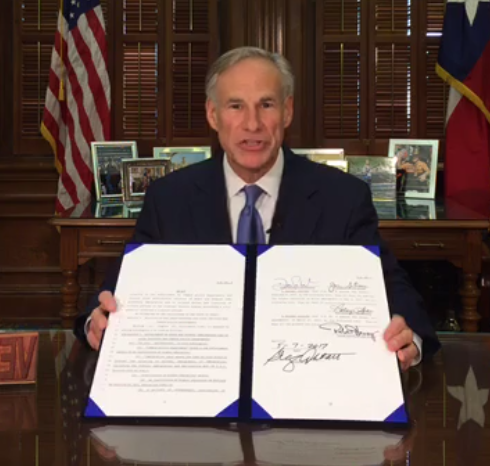 By Victor Landa, NewsTaco (2 minute read)   
Did you hear the one about the Governor who sued some of his state's citizens because he thought they were going to sue him first? It has a great punchline, and I'll get to that, but first the set-up.
Texas Governor Greg Abbott signed SB4 (anti-sanctuary city bill) into law this past weekend.
He did it late on Sunday, on Facebook, preempting any organized protests against the move.
The next day Texas Attorney General Ken Paxton filed a lawsuit against Travis County; Sally Hernandez, the county Sheriff; the City of Austin; Austin's City Council, Mayor and City Manager; and the Mexican American Legal Defense and Education Fund (MALDEF). According to theFort Worth Star-Telegram "The lawsuit targets immigrant rights groups and local officials who are likely to challenge the law. Thomas Saenz, president of the Mexican Legal Defense and Education Fund, called the lawsuit frivolous."
You might be tempted to give the Governor points on strategy and originality, but the preemptive lawsuit isn't new. It's been done before. Gov. Pete Wilson tried something similar in California back in the days of Prop 187. It didn't work then . . .
So, Paxton filed a suit on behalf of Abbot against people they think are going to sue them. They're right. I'd have bet on a lawsuit coming from any one of the folks named in their defensive legal action.
MALDEF answered with what can be called the joy of battle. Their response, in a press release, began seriously enough – "Rather than wait for aggrieved individuals and entities to pursue their many constitutional challenges to SB 4, the state bespeaks its own apparent high anxiety about the legality of Abbott's Folly, SB 4, by seeking a preemptive strike through this lawsuit."
But then it delivered the perfect punchline, and I'll call it the . . .
Quote of the day
"We will see you in court, Governor Abbott. In the meantime, we hope that both the governor and the attorney general will seek treatment for an apparent problem with premature litigation."
-MALDEF
---
---
Do you like stories that reflect authentic Latino life in the U.S.?
 Be part of a positive change.
---
---
Facebook