Native American Students Push San Diego State to Retire Controversial Aztec Mascot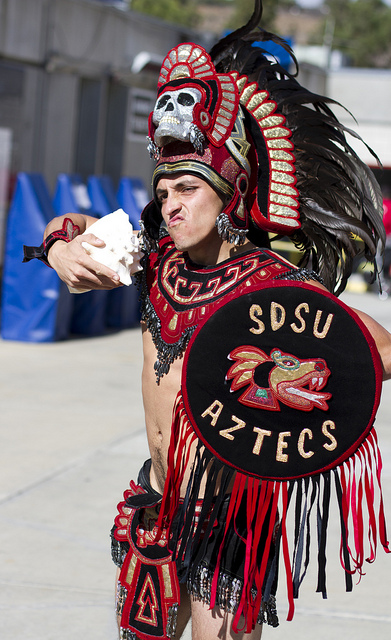 *Why you should read this: Because, as SDSU professor Ozzie Monge says, "the use of indigenous groups as mascot[s] . . . make[s] students and faculty "accidental racists" in "redface." VL
---
By Yara Simón, Remezcla (3.5 minute read)  
n 2001, San Diego State University dropped Monty Montezuma – a culturally insensitive cartoon figure that served as the school's mascot since at least 1941. By 2004 – a year after a committee of students and professors voted on a new mascot – the Aztec Warrior made its official debut, according to The San Diego Union-Tribune. But in the years since the mascot's reveal, controversy over the revised imagery has continued to bubble. In 2014, the Queer People of Color Collective – a now-defunct student group – unsuccessfully pushed for the school to renounce the mascot because it "[perpetuated] harmful stereotypes of Native Americans, including the notion that Native Americans are innately violent, dangerous, and 'savage.'"
This year, the Native American Student Alliance submitted a resolution calling for the end of the Aztec mascot and urging the school to "choose and accept a new, non-human" one. On April 10, the Student Diversity Commission unanimously voted to pass the alliance's resolution, and the A.S. University Council will take an official vote on April 19.
American Indian Studies professor Ozzie Monge co-wrote the resolution. On top of objecting the use of indigenous groups as mascot, which he says make students and faculty "accidental racists" in "redface," he also noted that using the Aztec is historically inaccurate. The Aztecs have been tied to the Southwest, but they lived in central Mexico – about 1,000 miles away. "This is a public university," Monge told The San Diego Union-Tribune. "We're not supposed to perpetuate ignorance. We're suppose to be seekers of truth and knowledge, and the fact is that we continue to foist this ridiculous idea on students, on the faculty and the public. It's counter to our mission statement."
---
---
Do you like stories that reflect authentic Latino life in the U.S.?
 Be part of a positive change.
---
---
[Photo by Nathan RupertFlickr]