Does the "New Trump Era" have human selective breeding at its core? It's not as crazy as it sounds.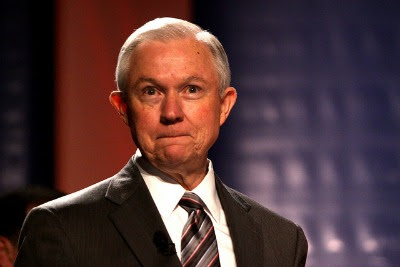 By Victor Landa, NewsTaco (2.5 minute read)   
Jeff Sessions was at the U.S.-Mexico border yesterday. The Attorney General was in Nogales, Arizona, speaking to a group of Customs and Border Protection Agents, laying out the structure of what he called the "Trump era."
Here's what he said, specifically: "For those that continue to seek improper and illegal entry into this country, be forewarned: This is a new era. This is the Trump era. The lawlessness, the abdication of the duty to enforce our immigration laws and the catch and release practices of old are over."
So what did he mean by that?
Think of it as a redefining of what it means to be an immigrant in the U.S., and by extension what it means to be Latino in the U.S.
[pullquote]The people who have the ear of political appointees in charge of immigration policy have been blatantly anti-immigrant for many years.[/pullquote]
First, let's connect the Latino dots.
There are roughly 55 million Latinos in the U.S. Of those, about 20 million are immigrants, 11 million of them undocumented. Of the remaining 35 million U.S.-born Latinos, many live in mixed-status homes, meaning that at least one of their parents is an immigrant. That's a big chunk of the U.S. Latino population that's touched directly by immigration. It's a big chunk of the U.S. population that is being defined, classified, and associated with immigrant America.
Sessions took a hard line against criminal immigrants and he did so by announcing the reclassification of repeat immigration offenders as felons – reverse engineering the crime to fit the rhetoric. What was once a misdemeanor civil infraction will now be a felony.
City Lab cut to the chase:
"The M.O. here is a familiar one: create a system that categorizes whole groups of people as hardened criminals to justify punishing them disproportionately and denying them rights. It's a system based on a fundamentally flawed—and frankly, racist—generalization that certain immigrants are overwhelmingly a threat to public safety."
It shouldn't come as a surprise when you dig beneath the rhetoric.
CNN connected the ideological dots in a report that shines a light on two recent immigration agency hires:
"Two hard-line opponents of illegal immigration have obtained high-level advisory jobs at federal immigration agencies in the Department of Homeland Security.
"Jon Feere, a former legal policy analyst for the Center for Immigration Studies, or CIS, has been hired as an adviser to Thomas D. Homan, the acting director of Immigration and Customs Enforcement, according to Homeland Security spokesman David Lapan.
"At Customs and Border Protection, Julie Kirchner, the former executive director of the Federation for American Immigration Reform, or FAIR, has been hired as an adviser to Customs and Border Protection acting Commissioner Kevin McAleenan."
The people who have the ear of political appointees in charge of immigration policy have been blatantly anti-immigrant for many years.
And those immigration whisperers from FAIR and CIS have one thing in common:
"The two organizations were founded by John Tanton, a retired Michigan ophthalmologist who has openly embraced eugenics, the science of improving the genetic quality of the human population by encouraging selective breeding and at times, advocating for the sterilization of genetically undesirable groups."
This is serious stuff, this new Trump era.
---
---
Do you like stories that reflect authentic Latino life in the U.S.?
 Be part of a positive change.
---
---
[Photo by
Gage Skidmore
/Flickr]