The Forgotten History of Latino Riots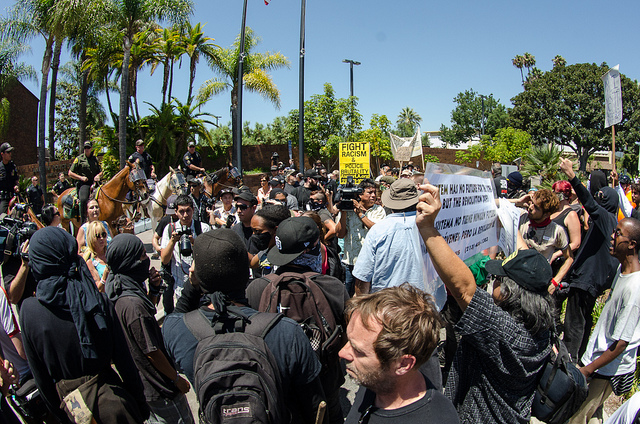 *Why you should red this: Because it's a conversation we need to have. Because there's an inner dynamic that pits the "good immigrant" narrative against the perception of Latinos as passive. Because there's an underlying tension of a community that's ignored and could erupt in public uprisings. Hat tip to Taquista Maria de Jesus Dixon for sharing this article. VL
---
By Natalie Delgadillo, City Lab (6.5 minute read)  
On July 21, 2012, a police officer in Anaheim, California, shot a Latino man as he tried to flee through an apartment complex parking lot. Manuel Diaz was unarmed and 25; he was pronounced dead at the hospital three hours after he was shot.
His death set something off in the midsized city south of Los Angeles, the home of Disneyland but also a place of increasing racial and class tensions. On the day of Diaz's death, protesters gathered at the crime scene and allegedly threw objects at police, who responded by firing non-lethal projectiles into the crowd; the next day, police shot and killed another Latino man, Joel Acevedo, spurring escalating protests and unrest in front of City Hall. More than 20 businesses were damaged, while a Disneyland fireworks show exploded above the heads of protestors a few blocks away.
Read more stories about Latino riots in NewsTaco. >> 
The violence that erupted in Anaheim wasn't an isolated incident. It's part of a longer and more obscure history of Latino urban unrest, one that many Americans appear to have collectively forgotten. "There's a perception that Latino rioting is unusual or isolated, whereas black rioting is typical," says Aaron Fountain, Jr., a Ph.D. student in history at Indiana University. "People don't know much about Latino history, so they don't put [these events] in a social context. This creates this perception that Latinos are passive, or that they only riot when conditions are really extreme."
Fountain, Jr. is determined to correct that perception. He's created a map of Latino "urban rebellions" dating back to the 1960s, which builds on an original list of 57 riots he compiled last year.
---
---
Do you like stories that reflect authentic Latino life in the U.S.?
 Be part of a positive change.
---
---
Natalie Delgadillo is an editorial fellow at CityLab
[Photo by Chase Carter/Flickr]