Dreamer Who Spoke Out About Deportation Efforts To Be Released From Detention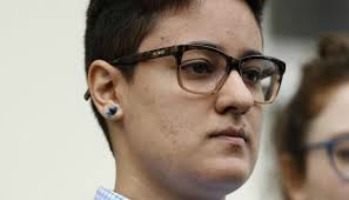 *Why you should read this: Because we've been following this story for a week and it's emblematic of the difference between what Trump says he going to do and what his administrations does in reality. VL
---
By Dana Liebelson, Elise Foley, Huffington Post (4.5 minute read)  
WASHINGTON ― Immigration authorities on Friday will release a 22-year-old undocumented immigrant who has spent more than a week in detention, her attorneys said. Daniela Vargas was arrested in Jackson, Mississippi, earlier this month after leaving a press conference where she spoke about the detention of her family members.
Vargas is still not safe from deportation, but will be able to live outside of immigrant detention as she awaits a final decision on her case. She is under an "order of supervision," which means she will have to check in with Immigration and Customs Enforcement periodically.
A spokesman for ICE did not immediately respond to a request for comment.
The fact that she was detained soon after speaking out about deportation efforts alarmed immigrant rights advocates and Democratic lawmakers. They said it indicated ICE agents — who President Donald Trump said he would give more leeway — were targeting individuals indiscriminately or that they were retaliating against critics.
Vargas' case also drew national attention as an example of how the Trump administration was handling the cases of so-called Dreamers, a blanket term for young undocumented immigrants who came to the U.S. as children. Although Trump has said he will address them with "great heart," some Dreamers have nonetheless been caught up by recent efforts to detain and deport more people.
Vargas and her family came to the U.S. from Argentina when she was 7 years old. She previously had a work permit and deportation reprieve under the Deferred Action for Childhood Arrivals program, or DACA. But her DACA status expired in November, and her renewal application hadn't been processed at the tie of her arrest. As a result, her protections under the program had lapsed when ICE agents arrived.
I strongly feel that I belong here and I strongly feel that I should be given a chance to be here and do something good.Daniela Vargas, in a statement earlier this month
On the morning of Feb. 15, Vargas' father, a house painter, and her brother, a construction worker, were both detained by ICE agents. As ICE agents questioned her, Vargas grew scared and went into her house, locked the door and hid in a closet for hours, she told The Huffington Post in an interview before she was detained.
ACT NOW!
Sign a petition to stop Trump's immigration ban
Click HERE 
Eventually, she says, ICE agents forced their way in with a warrant, guns raised. The house was searched ― officers had previously found a gun, which Vargas said the family owned for protection ― and she was briefly handcuffed. But ICE agents initially let her go, appearing to adhere to Trump's promise that he wouldn't target young undocumented . . .
---
---
 Do you like stories that reflect authentic Latino life in the U.S.?
 Be part of a positive change.
---
---
Dana is a staff reporter for The Huffington Post, a contributor for Marie Claire, and bassist for Hemlines. Previously, she was a staff reporter for Mother Jones. She is based in Washington, DC.
Elise Foley covers politics and immigration, including the intersection of the two, for the Huffington Post. She previously worked at the Washington Independent and attended journalism school at Northwestern University.