This Week's Anti-ICE Protests May Signal That Immigration Activism Has Entered a New Era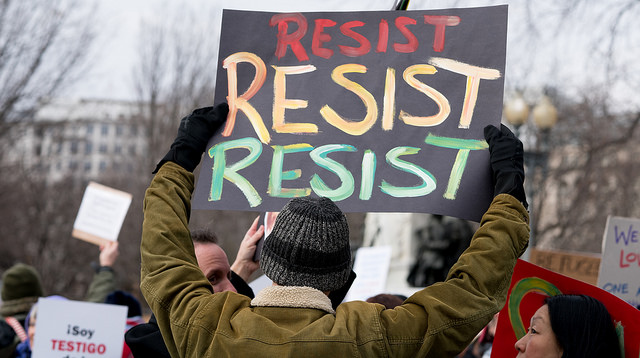 *Why you should read this: Because this kind of analysis  is missing from mainstream media. Because there's momentum building across the country. VL
---
By Adriana Cataño, Remezcla (4.5 minute read)  
A
fter Immigration and Customs Enforcement agents arrested
Guadalupe García de Rayos
during her regularly scheduled check-in with the agency, the 
36-year-old
mother of two burst into the national spotlight after activists put their bodies on the line in an attempt to stop her deportation. Unfortunately, their protests didn't deter the government from deporting Lupita. But as one of the first undocumented immigrants affected by
President Donald Trump's
new deportation order – which expands the definition of "criminal alien" to encompass a wider range of people and not just those who pose a public or national safety threat, had ties to criminal gangs, and committed a series of felonies or minor crimes – this case could serve as a model of what resistance may look like in our current political climate. And on Thursday evening, activists once again showed the fight for immigrants' rights is relentless work in the era of Trump.
Read more stories about immigration protests in NewsTaco. >>  
ICE took an approximate 100 people into custody on Thursday, leading activists to protest in downtown Los Angeles, reports the Los Angeles Times. Similar to Guadalupe García de Rayos's case, the news commanded national attention. ICE denies that it rounded up as many as 100 during sweeps and maintained that it's just following long-established protocols. ICE spokeswoman Lori Haley said the raids "[prioritized individuals who pose a risk to our communities. Examples would include known street gang members, child sex offenders, and deportable foreign nationals with significant drug trafficking convictions. To that end, ICE's routine immigration enforcement actions are ongoing."
ACT NOW!
Sign a petition to stop Trump's immigration ban
Click HERE 
Lawyers, however, dispute this. Karla Navarrete, a lawyer with the Coalition for Humane Immigrant Rights of Los Angeles (CHIRLA) said she as well as other immigration lawyers have seen an increase in calls from families of those in ICE custody. CHIRLA spokesman Jorge-Mario Cabrera said that in a typical day, the coalition only learns of a few arrests daily, according to KPCC. Navarrete adds that not all those arrested have convictions, like a man detained in Van Nuys. "This person has an old deportation order from 2011, I believe," she said. "And they have identified him and picked him up. He has no convictions, but he has a deportation order." Additionally, ICE isn't allowing those detained to contact their lawyers, CHIRLA stated.
---
---
Do you like stories that reflect authentic latino life in the U.S.?
 Be part of a positive change.
---
---
[Photo by
Victoria Pickering
/Flickr]