Trump and Peña agree to not talk about the wall in public, while U.S. tourism to Mexico is in a drought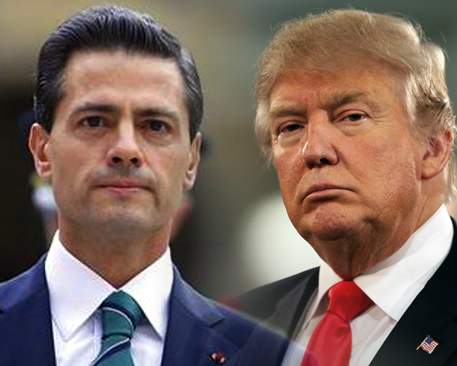 *Why you should read this: Because the U.S.-Mexico diplomatic standoff is not a one-sided story and you won't hear this side from U.S. media. Because the smart thing to do is to be informed of all sides of this issue. VL
---
By Once Noticias   (2.5 minute read)  
This morning Mexican President Enrique Peña Nieto talked by telephone for about an hour with U.S. President Donald Trump.
The call was arranged by their staff.
In a statement, the Mexican president said that it was "a constructive and productive conversation about the bilateral relationship between the two countries, including the United States trade deficit with Mexico, the importance of friendship between our nations, and the need for our countries to work together to stop drug trafficking and the illegal flow of weapons. "
This conversation comes after the two leaders cancel their meeting in Washington, scheduled for next week, after Trump reiterated that Mexico should pay for the wall at the border.
Faced with this issue, the leaders agreed to resolve the differences.
"With regard to the payment of the border wall, both Presidents acknowledged their clear and very public differences in position on this sensitive issue and agreed to resolve these differences as part of a comprehensive discussion of all aspects of the bilateral relationship. For now they agreed that neither would speak publicly of this controversial issue "said the Presidency communique.
He added that both Presidents have instructed their teams to continue the dialogue to strengthen this important strategic and economic relationship in a constructive way.
For his part, US President Donald Trump referred precisely to the telephone call he had with President Enrique Peña Nieto this morning.
"I think I have a very good relationship with the President. We have talked for almost an hour this morning and will work for a just and new relationship. I had a very good and friendly telephone conversation with the president and I think the people of Mexico are very well represented and in the coming months, we will be renegotiating, we will see what happens, "said Donald Trump.
"We will renegotiate our trade agreements and other aspects of our relationship with Mexico and I think it will be good for both countries," he said.
Meanwhile Enrique de la Madrid Cordero, Secretary of Tourism, said that because of the new political scenario between the US and Mexican governments, difficult times are coming in the tourism sector. Ever since Donald Trump appeared to gain attention in U.S. national politics, visitor numbers to Mexico have not been what were expected.
He indicated that out of every 100 trips made by an American, 18 traveled to Mexico, which is low since expectations were, before Trump, of 25 US visitors in 100.
Read more stories aobut the U.S.-Mexico relationship in NewsTaco. >> 
"Now the current situation is very difficult. The truth is that we would think that we should target 25% and in the not too distant future as much as 30%. Ideally, the natural journey for an American should always be his choice Mexico. And, well, Trump came into our path so the only thing that will happen is that the do is that the tourism drought will be extended," he said.
This article was originally published in Once Noticias. 
Tranlsation by NewsTaco.
---
[Photo courtesy of Once Noticias]