U.S. Prosecutors Outline Case Against Mexican Drug Lord 'El Chapo'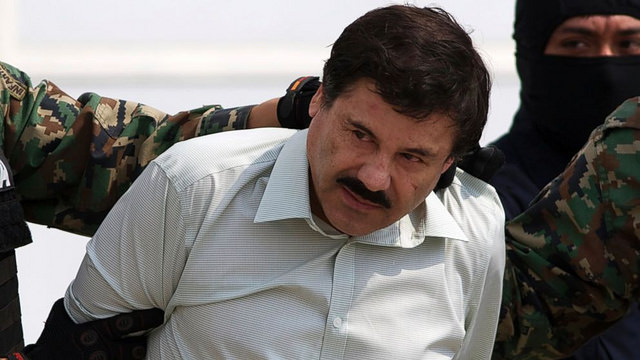 *Why you should read this: Because the timing was perfect, Chapo was extradited on the last day of the Obama presidency. Because a Homeland Security Special Agent says there won't be a tunnel to his bathroom. VL
---
By Alan Feuer and William K. Rashbaum, The New York Times (4.5 minute read) 
As heavily armed guards and bomb-sniffing dogs patrolled the streets outside, federal prosecutors in Brooklyn on Friday morning outlined their case against Joaquín Guzmán Loera, the drug lord known as El Chapo, saying that he oversaw a drug empire that moved at least 200 tons of cocaine into the United States, pocketed almost $14 billion in profits and was protected by an army of assassins with a military-grade arsenal who did not hesitate to kill on his behalf.
[pullquote]I can assure you no tunnel will be built to his bathroom.
-Angel Meledez, Special Agent in Charge of Homeland Security Investigations in New York[/pullquote]
At a late-morning news conference, Robert L. Capers, the United States attorney in Brooklyn, called the extradition of Mr. Guzmán, 59, from Mexico to New York a "milestone" in the pursuit of the notorious trafficker who achieved mythic status in his homeland as a Robin Hood-like outlaw and a serial prison escapee.
Saying that Mr. Guzmán now faces life in prison on a sweeping charge of running a continuing criminal enterprise, Mr. Capers sought to play down the defendant's role as a folk hero and promised that Mr. Guzmán would not escape his American jailers.
Read more stories about "Chapo" Guszmán in NewsTaco. >> 
"Who is Chapo Guzmán?" Mr. Capers asked, flanked by a phalanx of law-enforcement officials from local, state and federal agencies. "In short, he is a man who has known no other life than one of crime, violence, death and destruction."
---
---
Do you like stories that reflect authentic latino life in the U.S.?
 Be part of a positive change.
---
---
[Photo courtesy of 
Day Donaldson
/Flickr]