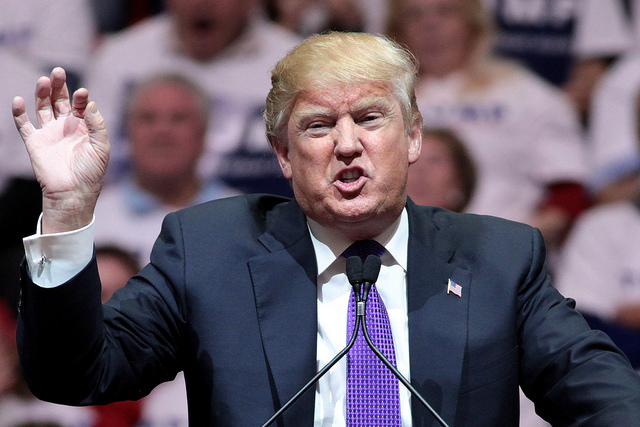 *Henry Flores says the rise in hate speech is now Trump's responsibility and he must (but probably won't) do something to stop it. VL
---
By Henry Flores, NewsTaco (4 minute read)
The recent general election brought us many things and one of the most noxious things that it brought was a resurgence of racist diatribes by conservatives and ideological extremists.  Although racism has not disappeared it did go underground for a short period of time particularly with the advent of the Civil Rights Movement and culminating with the election of Barack Obama to the presidency.  However, President Obama's ascendance also marked the beginning of a resurgence of overt racist speech and actions throughout the nation.
[pullquote]You really just can't say whatever you wish about anyone you wish anywhere you wish.[/pullquote]
The First Amendment 
Many Americans, including yours truly, have often prided ourselves by saying that some of the characteristics of our democracy that sets us apart are our first amendment rights.  We like to say that Americans enjoy freedom of religion, speech, assembly and the right to petition our government.  We also enjoy freedom of the press.
So, theoretically we can worship how we want, where and how we want and no authorities can tell us otherwise.  Or, we can say whatever we want, whenever we want, about any one we want and no authorities can tell us otherwise.  Or, our press can broadcast or print whatever they wish, about anyone they wish regardless of whether it's true or not.
Or, can we?
What is Free Speech? 
In a series of opinions and decisions the Supreme Court of the land has defined freedom of speech in less than absolute terms but we seem to have forgotten this and so have the authorities of the land.  You really just can't say whatever you wish about anyone you wish anywhere you wish.  For one, you have to tell the truth about someone or you can be sued for slander and/or libel!  You also cannot say "stuff" that can result in bodily harm to others such as shouting "fire" inside a crowded movie theater as a prank.  An ensuing stampede could result in physical and emotional harm to others.  Just like you cannot joke about carrying bombs aboard an airliner while in an airport!  This will get you into a great deal of trouble.
You cannot say things, in other words, that can cause or is harmful to others.  Of course, this is a right that is selectively observed and enforced.  For instance, a white person can denigrate a person of color by disparaging their heritage in a vulgar sort of way and claim they are free to voice their opinion because it is protected by the constitution.  However, if a person of color were to come back with a similar comment then a physical confrontation could ensue.  By the way, the Supreme Court has ruled that you can retaliate against someone who calls you a dirty name or says something insulting about your parentage because this falls under the category of "fighting words."  This means that the person doing the verbal disparagement is NOT protected by the constitution. 
Free Speech Mythology 
So, speech in our society is really not absolutely free.  You are not supposed to lie in commercial speech, you have to advertise jobs in an unbiased manner, and you cannot say anything that will cause a physical altercation.  In this last category is language that is insulting racially, sexually and so forth.  You can never tell when a person uses a despicable term to describe the national origin of another and then the insulted person turns around and shoots you!  You'll be guilty of causing your own bodily harm and the shooter will be guilty of shooting you.
Read more Henry Flores columns in NewsTaco.>>
Still what we have seen over the past few years, I'm not sure how to date this phenomenon, is an increase in racially charged, sexually explicit insulting language.  Why? Because our national leadership has condoned and encouraged bad language.  The Orange One has openly made racist and sexist comments and this is a signal to his followers to behave similarly.  Some folks feel that if your leader behaves this way then its fine for you to follow suit.
This is wrong!  This must stop!  Or, racial tensions will simply increase and more violence ensue.  The presumed leader of some, El Señor Naranja, must change his behavior and make it explicitly clear that this sort of language and behavior is not acceptable and will not be tolerated.  I just bet he won't though.
---
---
Did you like this story?
Subscribe to our daily newsletter to get more stories like this in your inbox every morining.
Click on the button below.
---
---
Henry Flores, PhD, is the Distinguished University Research Professor,  Institute of Public Administration and Public Service; Director, Masters in Public Administration (MPA); Professor of International Relations and Political Science at St. Mary's University. He is the author of Latinos and the Voting Rights Act: The Search for Racial Purpose. Click on the image below for more information.
[Photo by
Gage Skidmore
/Flickr]