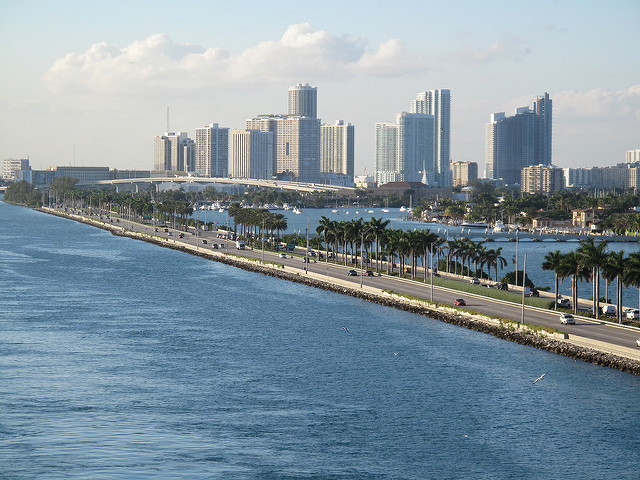 *It's a contrast between the reality of science and people selling their homes near the ocean, and the politics of climate change denial. Trump's pick to head the EPA, Scott Pruitt, describes himself as a "leading advocate against the EPA's activist agenda." VL
---
By Jesse Treviño, HispanicLatino (4 minute read)
From the roof of a hotel at night two years ago, the emerald city below looked destined to unfold as the new capital of the hemisphere.  Knowing what we know about the ongoing economic and demographic integration of the hemisphere, Miami in our lifetimes might still become the new geostrategic center of the 50 or so nations of the Americas.
I thought of my nocturnal musings when news came that Donald Trump's nominee to direct the Environmental Protection Agency does not believe climate change poses a threat, even as more-knowing homeowners sell their homes in Florida and businesses begin to hedge their bets.  I know this to be true because I had called a friend in southern Florida the week before the election seeking reassurance that Hillary Clinton was going to win the state.
The real estate reality of climate change
My friend is a seasoned professional, and she had been working for an adjunct of the Clinton campaign for almost a year, and so I was not expecting to hear Clinton was going to lose.  I certainly was surprised to hear, however, that she had sold her house, which she had owned for many years.   "You're kidding.  Why?" I asked.  "Too close to the water," she responded.  "But you love that house."  She became poignant for a moment before regaling me with her troubles when even mild tropical storms push ocean waters her way. "It's real," she said of climate change.  And sad.  I grew to love Miami when I lived there. Somewhere in storage in San Antonio is a white Gatsby-like hat I used to wear when I went there to recover from the aftermath of the election of 2000.
I did a pretty good job of recuperating from an election that Al Gore would have won over the disastrous George W. Bush but for Antonin Scalia on the Supreme Court.
Miami would be a mirage playing off the waters of South Beach were it not for the traffic.  Without the noise and bustle of visitors, languages and commercial transactions across nations and islands, the light that bounces off the many colors of the city's buildings creates an eternal rainbow that camouflages an economic powerhouse of immense and global potential.
Miami could become Atlantis
From atop my hotel, the city dazzled me again.  Most people can visualize Miami as generally the midpoint between Alaska and the southern-most part of South America.  As important, though, is that most of South America rests east of the United States, in time zones more conjoined with Europe and Africa.  Almost all of Central America itself is east of Texas – a difficult concept for Americans who use south of the border to mean anything south of the Rio Grande all the way to Tierra del Fuego in Chile.
[pullquote]The very waters that make Miami so splendid now threaten its very existence. [/pullquote]
Spread across miles of light at night, it seemed to me that Miami, blessed eons ago by the caprice of a small break in the continental plates, was making the best of geology, geography, time and, now, demography to become a super city in the age of globalized trade.  The demographics of Florida and of Miami have fast-become more representative of the rest of the hemisphere than traditional Cuban redoubt.  The blinking lights in near and far signaled the city was about to take center stage in hemispheric affairs – and perhaps more.
Read more stories like this in NewsTaco. >> 
Yet it seems the marvel of Miami might one day be our age's Atlantis, the mythical city said to have disappeared into a watery grave.  The very waters that make Miami so splendid now threaten its very existence.  The sense of the city's growing grandeur itself might be mirage.  Miami's dreams could be undone, inundated slowly by the very sea that shimmers day and night.
Or they could be swept away instantly next year or the summer thereafter by the growing size and anger of hurricanes made more powerful and more frequent by changes in water temperature and the climate.  Had Gore won the election 16 years ago, Miami and we might have stood a better chance.  Still, we need to convince the Senate to reject an EPA nominee so divorced from the reality of homeowners selling their homes already.  Certainly, Sen. Marco Rubio has an interesting vote to cast.  Perhaps we who love Miami should give him a call.
When I think back to that night high above the city, I was not Gatsby.  But I did want the emerald, elegiac light to mean more than it did to him.
This article was originally published in HispanicLatino.com. 
---
Jesús (Jesse) Treviño is the former editorial page editor of The Austin American-Statesman.
[Photo by 
Matthew Hurst
/Flickr]