the Latino daily – Your Monday morning brief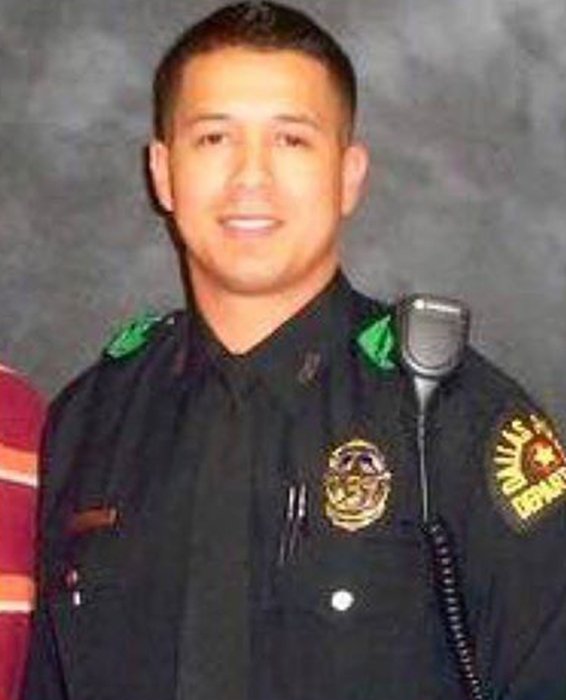 Dallas policeman
Patrick Zamarripa,
32, was the second of five officers killed Thursday night by a sniper after a demonstration against police shootings in Louisiana and Minnesota. Zamarripa
was a navy veteran
with tree tours in Iraq, he is survived by his wife and 2 year-old daughter. The other victims of the shooting are DART Officer
Brent Thompson
, 43; Dallas Police Officer
Michael Krol
, 40; Dallas Police Senior Cpl.
Lorne Ahrens
; and Dallas Police Officer
Michael Smith
, 55.
MONDAY, July 11, 2016
Good morning!
The initial shock over the tumultuous and violent week that just ended is beginning to subside, what's left for now is the clear light of the day after, the slow self-gathering, the mourning, and the coming together.
►Monday's numbers
1,006,542 – The number of Puerto Ricans in Florida.
1000 – The number of Puerto Ricans who relocate to Florida each month.
400,000 – The number of Puerto Ricans who have settled in the Orlando area.
2 – Florida's rank of Puerto Rican population among U.S. states, New York is first.
30 – The percentage of Florida's population that is Latino.
57 – The percentage of Puerto Ricans who lean Democratic.
22 – The percentage of Puerto Ricans who lean Republican.
537 – The number of votes by which George W. Bush won the state of Florida in 2000, netting him the state's 29 electoral votes, back when Florida leaned Republican.
►The big meeting between Donald Trump and Florida Latinos didn't happen after all
That's because Trump canceled, citing the Dallas police killings as the reason.
Fox News Latino reports
that he was scheduled to "meet with some
20 Latino leaders
– many of them Cuban-Americans – at the iconic Versailles Restaurant in Little Havana." A last minute addition to the list of attendees was Sen. Marco Rubio, who had earlier said he wouldn't go.
Apparently they missed a huge Trump speech titled "Succeeding Together." There's no word on whether the meeting will be rescheduled.
Quote of the day
"I don't agree with everything that he says; I think I'm OK with the wall. We're OK with it. What comes after the wall — that's what concerns us." 
–
Marilyn Rivera
, pastor at La Puerta Life Center in North Miami. Rivera was
among the 30 people
who attended an alternate Trump meeting in Miami in which Trump campaign manager Paul Manafort was teleconferenced. The issues of immigration, religious liberty and small business were raised, but the candidate's acerbic immigration and Mexican rhetoric wasn't mentioned.
►Clinton-Trump race is tight among English dominant U.S. Latinos
It's
48-41
, advantage Clinton
according to Pew
. The margin of error is
6.7
, so it's closer than it appears.
It's an interesting puzzle: Latino millennials favor Clinton 71-19, and older Latinos are for Hillary at a rate of65-26. The problem is that you can parse the Latino electorate many ways – U.S. born v naturalized; Mexican v Puerto Rican v Cuban v others; Spanish dominant; first generation; immigrant parents; first time voters . . .
It's entertaining the way a mosaic portrait is. But you have to take a few steps back to get the picture. Overall, Clinton leads Trump among U.S. Latinos 66-24.
►Meanwhile, in California, pols are asking where's Antonio?
It was a given for many months that former LA Mayor
Antonio Villaraigosa
would jump into the California Governor's race. But
as the OC Register sarcastically put it
, "Usually, candidates seriously considering running for governor are willing to go to the opening of an envelope to get their name in the paper, but Villaraigosa has kept a low profile."
That means Latinos have turned their attention to alternatives:
"If Orange County Rep. Loretta Sanchez is unsuccessful in her bid to replace retiring U.S. Sen. Barbara Boxer this November, but makes a strong showing, she could parlay her newly acquired name identification into a bid for governor.
"California state Senate President pro Tem Kevin de León is another potential candidate. Currently, de León is running for lieutenant governor in 2018, but could easily switch races if he thinks he has a shot."
"Not to be left out, Los Angeles Rep. Xavier Becerra is quickly becoming an emerging voice on the Democratic side of the aisle. Becerra has worked his way up the Washington, D.C., food chain to become chairman of the House Democratic Caucus."
"If none of these candidates decide to enter the race, don't count out California's Secretary of State Alex Padilla, Los Angeles Mayor Eric Garcetti or Palm Desert Rep. Raul Ruiz."
►Lost in the tumult of last week's news of police shootings and shooting of police . . .
. . .  were the names of five Latinos who died at the hands of cops.
Telesur reports
"
Vinson Ramos, Melissa Ventura, Anthony Nuñez, Pedro Villanueva
and
Raul Saavedra-Vargas
were shot and killed by cops since Sunday, but only local media picked up the story."
According to the Telesur article "While statistics clearly show that Black people are disproportionately killed by police, few numbers exist for Latinos, who can occupy several demographic categories."
Here's a quick recount of the five:
"After receiving a call for domestic abuse, three officers showed up at a Jack-in-the-Box in Bell, east of Los Angeles, on Thursday. Vinson Ramos was reportedly holding a folding knife, and when he refused to put it down, the officers opened fire."
Melissa Ventura, a 24-year-old mother of three, was shot and killed by cops on Tuesday in Yuma, Arizona. Official accounts say she was holding a knife when they shot her and that they were called out for a case of domestic violence."
The day before, police in San Jose, California were called to Anthony Nuñez's house, who the police chief said was then described as suicidal. Nuñez reportedly left the house with a gun when police arrived, and after 14 minutes of police trying to convince him not to kill himself, they shot Nuñez instead. He was 19 years old."
"[Pedro] Villanueva, 19, was reportedly fleeing uniformed police in his car when undercover highway patrol officers shot at his moving vehicle—a tactic banned by major police departments.
"Raul Saavedra-Vargas was also fleeing a traffic stop when he almost drove through downtown's Biggest Little City Wing Fest—a popular chicken-eating festival—and was shot dead. Police said that they opened fire when they saw him driving into the street festival and approaching a cop."
►In Dallas meanwhile, Latinos are expressing their horror at the killing of the five police officers
Seventeen-point-six percent
of the
population
of Dallas is Latino. One of the five victims of the sniper shooting was Latino. The city's Latino leadership was quick to respond:
Domingo Garcia
, the first Latino elected Mayor Pro Term for the city of Dallas, said he wholeheartedly condemns the shooting. "'An eye for an eye makes the whole world blind. He said the violence in Baton Rouge, Louisiana and Minneapolis do not justify the murder of police officers. Things like this create flash points of tension,' Garcia said, also citing riots in Dallas after the police killing of 
Santos Rodriguez
 in July 1973. 'Since then, there have been several instances that we have had to work on improving relationships between the community and police.'"
And "Monica Alonza, Mayor Pro Tem for Dallas, said she has worked to lower crime rates in the city, and one way she does that is by fostering conversations between Dallas police and her constituents at neighborhood crime watch meetings. "'The constituency, whether it is neighborhood watch or business owners," she said, 'have to continue to give the police the support they need to help. The Dallas Police Department is very active in our neighborhoods, so yes, we are mourning, but we are joining forces and moving forward.'"
►We'll end on a positive note
Photo courtesy of Tumblr
Sixteen year-old
Laurie Hernandez
will be going to Rio next month. This past weekend the New Jersey native who's been given the nickname the "human emoji"
was named to the U.S. women's gymnastics team
, the first U.S. Latina to make the team since 1984. She'll be joining the five-member team and is a hopeful to medal in the floor exercise. The Summer Olympics begin August 5.
Mientras hay vida hay esperanza. 
Have a great week!