NewsTaco Podcast Network, Espisode 5: Super Tuesday III, Rubio, Trump, Hillary after the big vote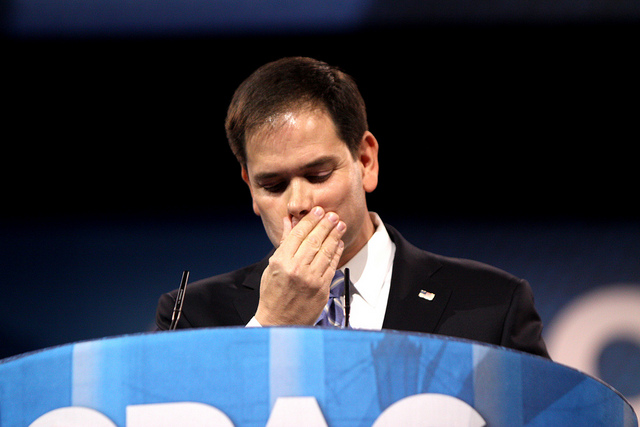 By Victor Landa, NewsTaco
There were big political bets played this past Tuesday in Florida, Ohio, Illinois, North Carolina, and Missouri. The big payoff's were delegates, bragging rights, sighs of relief and momentum to move to the next phase of the process.
There were winners, and not. The big story was how Marco Rubio fell short of every expectation – his own, his campaign's, his supporters, his donors . . .  The promise was that he'd win in his home state and the Florida victory would propel him forward to better things. It didn't happen.
Another story was the Trump steam roller that continues to crush his opponents, except in Ohio, where he lost to John Kasich. The GOP establishment has circled their wagons around the idea of a contested convention.
And Hillary won big. She swept the 5 states and gained in the delegate count, but more importantly she gained momentum and came closer to a mathematical lock on the Democratic nomination.
We talked about these things and more with Pilar Marrero, senior writer with La Opinion, in Los Angeles. She was at the Trump rally where he talked about taking protesters out on a stretcher, she tells us about that and her impressions of a Trump event.
Enjoy, let us know what you think.
---
---
[Photo by 
Gage Skidmore
/Flickr]
Suggested reading
What´s at stake if don´t deal with immigration reform in an honest way? Nothing less than the future of the country. A book by journalist Pilar Marrero
As the US deports record numbers of immigrants and local and state governments scramble to pass laws resembling dystopian police states where anyone can be questioned and neighbors are encouraged to report on one another, violent anti-immigration rhetoric is growing across the nation. Against this tide of hysteria, Pilar Marrero reveals how damaging this rise in malice toward immigrants is not only to the individuals, but to our country as a whole.
Click HERE to buy this book.