Warship honoring Latino Marine christened at Maine shipyard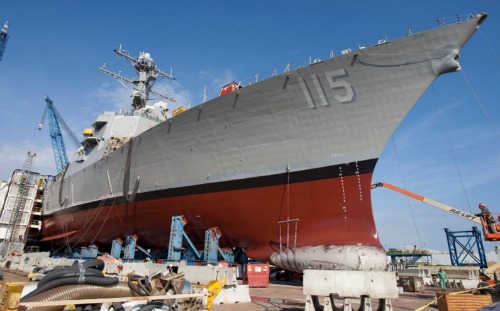 *This the first US Navy ship named after a person born in Mexico. VL
---
By David Sharp, Associated Press
BATH, Maine (AP) — First in English, then in Spanish, the mother of a fallen Marine who shielded his comrades from an insurgent's grenade christened a new Navy destroyer in his honor.
The mother of Sgt. Rafael Perlta asked God to bless the ship named for her son and keep safe all those who serve aboard her.
The ceremony to christen the future USS Rafael Peralta paid homage to the slain Marine, who gave the ultimate sacrifice in service of a country to which he emigrated as a boy.
Peralta, who pulled a grenade against his body to protect his fellow Marines during close combat with insurgents in Fallujah, Iraq, on Nov. 15, 2004, is believed to be the first serviceman born in Mexico to have a naval warship named in his honor.
Click HERE to read the full story.
---
---
[Photo courtesy of
Stars and Stripes
]