Newest U.S. Navy destroyer to be named after Latino Hero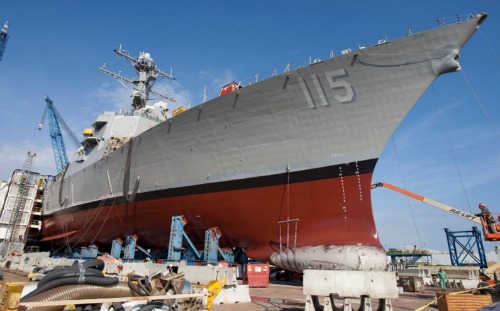 *Sgt. Rafael Peralta threw himself on a grenade to protect his fellow Marines in Fallujah, Afghanistan. He was nominated for a Medal of Honor but denied three times. He was awarded the Navy Cross and this Saturday a destroyer will be christened in his name. It will be the first U.S. Navy vessel named after a person born in Mexico. VL
---
By David Sharp, Associated Press
BATH, Maine — Heroes forged in Afghanistan and Iraq are having their names bestowed on a new generation of warships, joining those whose exploits in World Wars and battles domestic and abroad earned them the distinction of having U.S. Navy vessels christened in their honor.
[pullquote]His mother, Rosa Peralta, will crash a bottle of Champagne on the ship's bow at the christening. She also plans to present his Navy Cross to the ship's skipper to be kept on board.[/pullquote]
More than a decade after U.S. boots hit the ground in the Middle East, two new destroyers bearing the names of Americans who died there are already in service.
A third, the future USS Rafael Peralta, named for a Marine killed nearly 11 years ago in Iraq, will be christened Saturday at Bath Iron Works. Peralta was posthumously awarded the Navy Cross for heroism after he covered an insurgent's grenade with his body to protect his fellow Marines.
Click HERE to read the full story.
---
---
[Photo courtesy of
Stars and Stripes
]