On climate change, Hispanic Catholics hear pope's message – and it's personal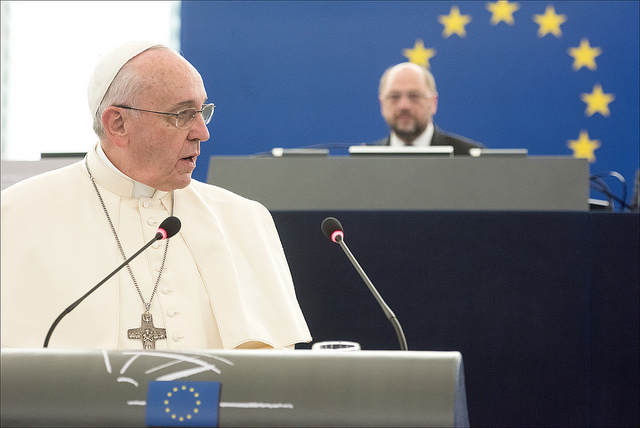 *When it comes to the Pope's messages on climate justice and his call for a phase-out of fossil fuels to protect the poor, the important question is whether Francis can make a difference in a slow-moving threat. Many observers say that the world's Latinos will be key to the Pope's vision. VL
---
By Suzanne Goldenberg, The Guardian
On a June morning, Father Rob Yaksich, a park ranger until he found his calling in mid-life as a Catholic priest, presided over his first ever Sunday Mass at the historic Cathedral Basilica of Saint Francis in Santa Fe, New Mexico. That day, he chose the power of spreading the faith as the theme of his sermon.
"Think of the mustard seed," he told those gathered for the early morning Spanish language mass. "We all carry little mustard seeds of faith in our hearts. This mustard seed grows, and if it is nourished, it grows into a great tree."
[pullquote][tweet_dis]As priests speak out from the pulpit and the ranks, their advocacy on climate change could eventually help build the critical mass of public support needed to push political leaders to take the bold action[/tweet_dis].[/pullquote]
The roots of the Catholic church run deep here; New Mexico is considered one of the most culturally Catholic states. The first permanent Franciscan mission is in present-day Santa Fe, which is surrounded by the Sangre de Cristo mountains.
[tweet_dis]The power of those Catholic faithful will now be put to the test twice over, with the pope's radical message about climate change[/tweet_dis] in the global economy, and his call for a phase-out of fossil fuels in the name of protecting the poor.
Click HERE to read the full story.
---
[Photo by 
European Parliament
/Flickr]