Who is gaining the most from Obama's deferred action program for undocumented adults?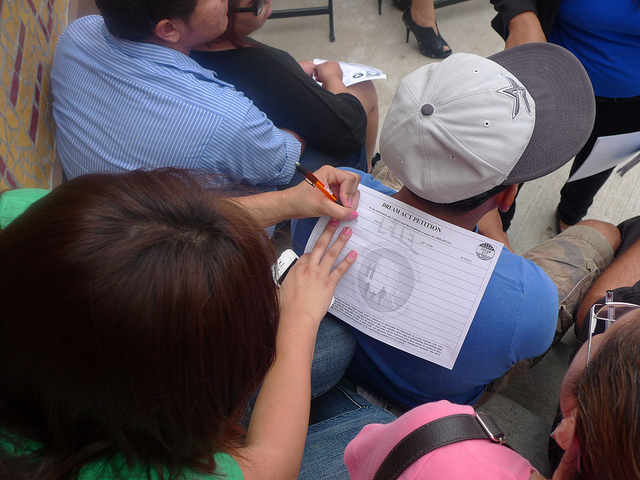 *Contrary to what critics have been saying, it's not as if opening the doors to legalization through DACA was going to let in a flood of immigrants. The choice to go through the deferred action process has to do with things like age, education, gender, family background and country of origin. This is an excellent, and needed study. VL
---
By Jaein Josefina Lee, Carolina Valdivia Ordorica, Kristina Brant, Harvard University
Directed by Roberto G. Gonzales at Harvard University, the National UnDACAmented Research Project is the first effort to collect extensive data on the effects of the Deferred Action program. In 2013, an online survey probed the educational, labor market, health, and civic engagement experiences of 2,684 young adult immigrants. An earlier SSN brief by Gonzales outlined preliminary findings that Deferred Action has indeed helped undocumented young adults become more fully incorporated into the U.S. economy and society. Here, we consider how benefits vary for subgroups within the undocumented population.
[pullquote]Asked why they had not applied, one in ten respondents said they did not know how and 15% said they were fearful of sending personal information to the government.[/pullquote]
Who benefits the most?
Deferred Action has opened many new opportunities, but some recipients benefit more from this temporary legal status than others.
[tweet_dis]Undocumented youth with bachelor's degrees were about 1.5 times more likely than those without college degrees to obtain new jobs[/tweet_dis], increase their earnings, and secure internships.
Men were more likely than women to obtain credit cards and driver's licenses.
Younger recipients were more likely to get a new job and open a first bank account, while older recipients were more likely to obtain a driver's license and health care.
Recipients whose parents had earned a bachelor's degree and those from middle/upper-income families were more likely than those of lower status to take advantage of new opportunities.
Compared to Mexican immigrants, other Latino and Caribbean immigrants were more likely to increase their earnings, open bank accounts, and obtain drivers' licenses, while Asians and Pacific Islanders were more likely to find internships, open bank accounts and obtain credit cards.
Click HERE to read the full story.
---
[Photoby 
Neighborhood Centers Inc.
/Flickr]