From the Fields to Congress: Latinos Are Environmental Champions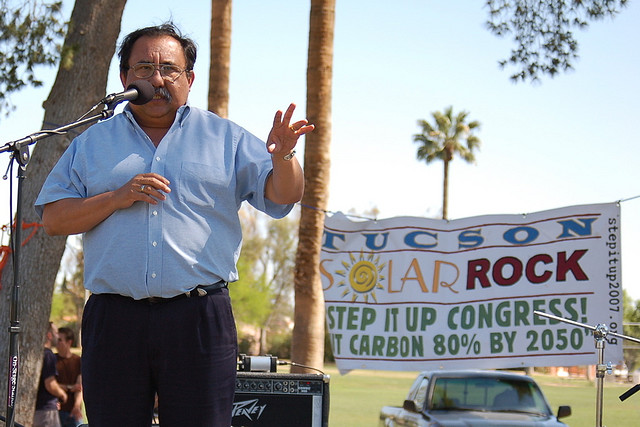 *There's a lot of praise for Cesar Chavez and his legacy in this piece, it's well-intentioned and well received. It proves that concern for the environment is not new to the Latino community. But read down to the sixth paragraph, you'll find a National Environmental Scorecard, put together by the League of Conservation Voters. It rates U.S. Senators and House Members according to their votes on important environmental legislation. It also divides those law makers by political party. Here's the snapshot: the average Latino Democrat score is 83%; the average Latino Republican score is 3%. This puts an exclamation point on several things: that Latinos are not a one issue community; that Latinos care for the environment as a political issue; and that some Latino politicians understand this and others don't. Another relevant number,compiled by Latino Decisions, is that 9 in 10 Latinos want the government to take action against the dangers of climate change. Add to this the fact that Latino voters have become a coveted political commodity. Altogether, the take-away is that Latino voters are good for the environment. VL
By Jennifer Allen, Huffington Post Latino Voices
As we celebrate Cesar Chavez Day on March 31st, it's important to honor the legacy of this farm worker, labor leader, and civil rights activist who lived by the mantra of ¡Si Se Puede!
Many of the gains made by the farm worker movement, particularly those aimed at protecting our health, were steadily attacked in the U.S. Congress last year. But a recent analysis by the League of Conservation Voters (LCV) shows that the vast majority of the Latino members of Congress are standing up for our communities' health and future.
For more than 30 years Chavez devoted himself to building the voice and power of some of the most exploited workers in this nation's history. Through his passion, determination and non-violent efforts, he and the farm worker movement were able to improve the health and working conditions of farm workers across Arizona, California, Florida, Texas and other states.
The farm worker movement is often thought of in terms of organizing for workers rights; in fact, many of the rights fought and won were directly related to the health of not only the workers and their families, but also of our food supply, air and water. Their organized efforts resulted in access to clean drinking water on the job, protections against pesticide exposure, prohibitions on pesticide spraying while workers are in the fields, and outlawing DDT and other dangerous pesticides.
Unfortunately, the struggle for the health and dignity of Latino farm workers and their families did not end with the farm workers victories. Attacks on water pollution limits, weaker protections from pesticides, and assaults on restrictions on air pollution dominated Congressional debates in recent years.
Every year since 1970, LCV has produced a National Environmental Scorecard that provides detailed information about the votes by senators and representatives on the most important environmental legislation. Last month, LCV released its 2014 Scorecard in English and …
This article was originally published in Huffington Post Latino Voices.
[Photo by 
Step It Up 2007
]