Playing the Environmental Card: A Winning Strategy for Mobilizing Latinos in 2014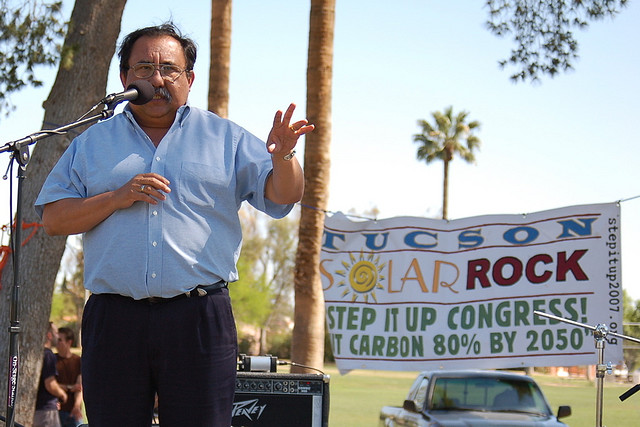 *Here's something new on an old topic. How to get more Latinos to the polls in the midterms. I don't know that the green issue will do the trick, but it's interesting that the environment polls almost as high as immigration among Latinos. VL
By Adrian Pantoja, Latino Decisions
A December 2013 survey of 800 Latino registered voters carried out by Latino Decisions and the Natural Resources Defense Council (NRDC) found that environmental issues are a top priority for Latinos.  In the survey, 75% of Latino registered voters said it was extremely or very important for the government to address climate change, and support was broad across sub-groups within the Latino electorate (see Figure 1).  Support for political action on climate change scores consistently ranks about equal to Latino support for immigration reform.  In a June 2014 survey with 800 Latino registered voters, 89% of respondents said it was extremely to somewhat important that Congress and the President address immigration reform before the midterm election.  While immigration reform is a top priority for Latinos, action on climate change and protecting the environment is also a top Latino issue, and perhaps an opportunity to connect with and mobilize Latinos this Fall.
Given that a large majority of Latinos display pro-environmental values, Democrats have an opportunity to reengage Latino voters by highlighting their strong environmental records and/or the lackluster environmental records of their Republican opponents.  Even as many have sounded alarm bells about Latinos lack of enthusiasm for Democrats due to Obama's lack of action on immigration, the environment may present an opportunity for Latino mobilization in 2014.
In a 2012 Colorado survey of Latinos, respondents were asked to evaluate two candidates who had competing views on the need for oil shale regulations, a salient issue for Colorado voters at the time, and then pick which candidate they would support.  Let's say there are two candidates running for office, and one candidate supported a proposal to require oil companies to prove that oil shale is feasible and won't harm western water before it commercially occurs on public lands—and the other candidate said oil companies should be able to get started developing oil shale right away to create jobs and energy.  Which candidate are you more likely to support?  Latino supported the environmental candidate by a margin of three-to-one (60% vs 20%).
Click HERE to read the full story.
[Photo by 
Step It Up 2007
]