Latino Environmentalists, Saving the Ocean, Banning Plastic Bags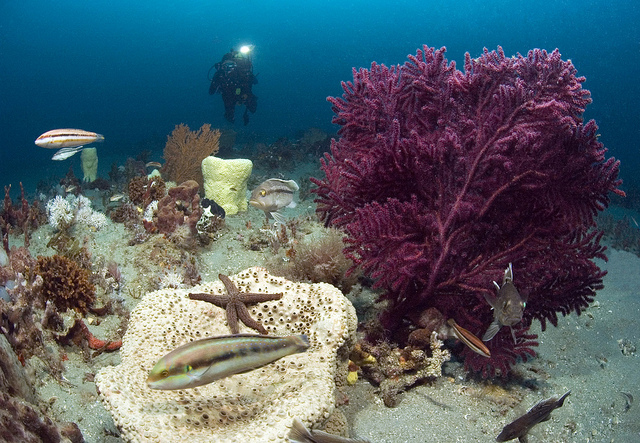 By Marce Gutierrez, NewsTaco
En el mar, la vida es mas sabrosa…
Growing up two blocks from the Pacific Ocean has a way of leaving a life-long impression on you. I can't be sure if it was the big shimmering blue waters, the sound of the crashing waves or the strong salty breezes, but it was enough to hook a budding Latina environmentalist at a young age.
After 25 years and a job in a Bluefin tuna (read: threatened) farm I somehow ended as a stakeholder in the design process to create California's newest state parks: marine protected areas.
First of it's kind effort.
This process, the first of it's kind in the world to create a statewide biologically linked network, put California firmly in a leadership role in terms of ocean conservation. The process was long-drawn and difficult, like most innovative projects tend to be, but in the end, it was a success.
Fast forward to March 24th, of this year.
The state of California celebrated "Ocean's Day" in Sacramento, the state's capitol. While it was not my first turn at it, this time was different than past years:
We focused our effort on showing-off the state's marine protected areas. After years of working to make them a reality – we now could introduce legislators to the cutting-edge system of underwater parks. From San Diego to Crescent city, it has been a collective effort through and through: from the legislators that approved the Marine Life Protection Act, to the scientists that worked on the initiative, the conservation advocates that worked across the state and more importantly, the general public that helped shape the design through thousands of letters and emails, hundreds of hours of public comment and now, helping to protect and monitor them. We also have early indications of success from the central coast, where researchers are seeing more and bigger fish in protected areas. 
Last year, we had the privilege of starting off Ocean's Day with Sen. Alex Padilla's (D-Pacoima) words of encouragement (he was a great sport and joined us very early–8 am on the dot I think, in the Capitol's cafeteria!). While the environmental issue he championed last year – an ever-elusive statewide plastic bag ban – ultimately did not pass at the Senate level, this year there is cause for hope. In what can only be called an ode to community action and willing, receptive legislators – two of last year's proposal opponents have now joined Sen. Padilla to pursue this worthwhile goal. I may be overly wonky here, but it was truly inspiring to see two Latino senators, Kevin De León (D-Los Angeles)and Ricardo Lara (D- Huntington Park/ Long Beach), work with their constituents to support a statewide bag ban proposal. 
 As my Abuelita Maria would say: Es de sabios cambiar de opinion! (Wise men are known for their willingness to change their mind).
A productive Ocean's Day if I ever saw one. I will hold the celebrations for now, but it is worthwhile days like this that fill me with inspiration and hope.
Marce Gutierrez is program director at Resource Media and founder of Azul.
[Photos by NOAA's National Ocean Service/Flickr, Deja el Plástico]