Should Latina beauty pageants create new journalists?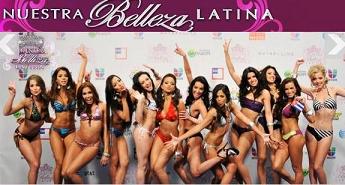 By Sylvia Obén, Latina Voices
The dark-colored eyes, long hair and curvy bodies help women shine in the eyes of television viewers in Hispanic audiences. Beauty pageants help many Latinas get a step into the entertainment business, as well as journalism jobs. Some beauty queens are even hired as anchors.
Nuestra Belleza Latina, a beauty pageant and reality show produced by Univision, has been running for seven years, and it has given some women the chance to become television hosts and reporters. Some have never even studied communications or journalism.
Three of the seven winners are shining bright in the Hispanic television world. Alejandra Espinoza, who studied nursing in Mexico, is one example of how beauty has a big role into the media industry. She was the first winner of Nuestra Belleza Latina in 2007. She received a cash prize and the chance to become a personality on Univision. Last year's winner, Vanessa De Roide, studied communications in Puerto Rico, and she used the win as a foot in the door to the industry. She is a current host and reporter for Univision's Despierta America. Ana Patricia González, whose education remains unknown, is also growing in the media industry, thanks to her beauty.
Bree Boyce, a former Miss South Carolina, was hired at WACH-FOX as the station's news anchor. Boyce told Broadcasting and Cable it seems to feed the notion it's okay for a main co-anchor of a newscast to have no other credentials but a pretty face and a pageant title.
Really? In my opinion, some Latinas or whites are blessed with their beauty, but what if some are not? Is that fair?
I consider myself an attractive Latina with dark eyes, long hair and a curvy body, but what gives me credentials is what I studied. I've spent a lot of money on my education. I'm currently in graduate school for my Master's Degree in journalism, but would I get further in my career if I were a beauty queen?
Nicole Suarez, a Chicago resident, received third place in the Nuestra Belleza Latina contest when she was 19.
"[In the pageant] my experience was unique, it was spontaneous, I wasn't planning on being part of the show," Suarez said. "I auditioned because my hair stylist and my mom made me."
The winner of the pageant also gets a cash prize of $200,000 to $250,000. Some of the winners may not spend any of it on education. They also receive a $40,000 shopping spree in New York and an all-day spa treatment in Miami, plus one guest, from Maybelline New York.
Boyce said her frustration is rooted in the poor messages this sends to the community and to all of the aspiring young, aspiring broadcast journalists. These students are spending tens of thousands of dollars of their money, their parents' money, scholarship dollars and grants to get formal training for a career which apparently requires only a certain level of celebrity and beauty to obtain.
On the other hand, Latinas who didn't study communications are getting more and more into the industry than those who did study communications. For example, Espinoza and Gonzalez, who didn't study communications at all, are in the same industry as De Roide, who did.
After the pageant, Suarez decided to concentrate on journalism. Three months after the pageant in 2007, Univision Chicago called her to offer her a reporter position in a three-minute segment on Despierta America, called Despierta Chicago. Suarez hasn't even finished school yet.
"Now I'm taking it as an experience," Suarez said. "I get to work my way through school, but [after I graduate] I want to find bigger opportunities and keep growing."
Should the pageant Nuestra Belleza Latina require contestants to have a communications degree if they're going to give the winners communication positions?
For Suarez, education is really important, but she said she couldn't judge Espinoza and Gonzalez. She said maybe they have gone through difficult situations in their lives.
In my opinion, a communication degree is really important. A communications or journalism major requires a lot of time, experience and knowledge in the industry, and maybe I would think differently if I had not been lucky enough to be able to study.
This article was originally published in Latina Voices.
Sylvia Oben is originally from Puerto Rico, and she is currently a journalism graduate student at Columbia College Chicago.
[Photo courtesy of Univision]