Rise of Latina leadership through non-profits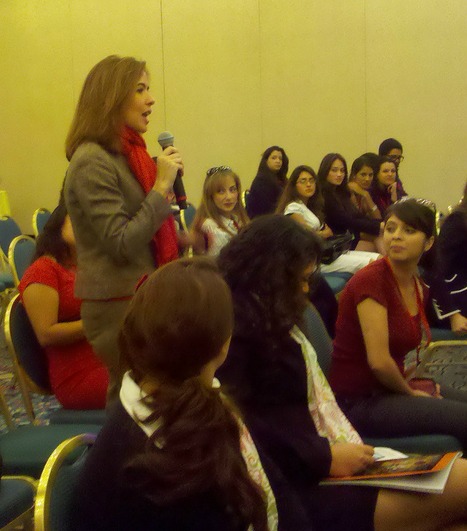 By Elizabeth Giadans, Latina Voices
When it comes to working in non-profit organizations, Ann Marquez, president of the National Hispaña Leadership Institute, or NHLI, said it is important for Latinas and Hispanics to get involved and find different ways to give back to the community.
"There's that old expression, 'charity begins at home,'" Marquez said. "Some of us have been given or have opportunities present themselves that [makes] us fortunate. The only way to truly honor that is to pay it back and pay it forward."
NHLI is a national non-profit, based in Washington, D.C. Its mission is to develop ethical Latina leaders of all types.
The population of Latinas and Hispanics is projected to become 30 percent of the U.S. population by the year 2060. The growing population in the country is also pursuing professional careers, according to a study, "The Latina Power Shift," by Nielsen.
This trend will directly impact non-profit groups because of the contribution Latinas are making to communities in the U.S., Marquez said.
"To have a pluralist and comprehensive vision for any project, or any goal, you need to have the Latina perspective," she said. "We are able to be a little more collaborative because we can find a level of pluralism that's needed when it come to the diversity of thought."
Alma Vargas is a youth program coordinator for Proyecto Juventud, a program by Mujeres Latinas en Accion in Chicago. Mujeres was founded in 1973, and it's known in the Chicago area for offering social services, supporting leadership development programs and helping domestic violence victims.
Vargas has worked with Mujeres for three years. She said her involvement in non-profit organizations is rewarding.
"I like working with youth because they're not too old, where they're already stuck in their ways," Vargas said. "If they're going in the wrong path, it's the perfect age to shape, mold them and guide them in the right direction," she added.
Vargas said through non-profits, she has gained experience in working with Latino families, youth and community members. She grew up in the suburbs, but when she moved to the city, she was exposed to a different setting she was not accustomed to.
"Chicago is very different. I learned a lot about neighborhood violence, gang violence and domestic violence," she said.
Vargas said working in a non-profit also has its downsides.
"It's hard work," Vargas said. "Not for profits are always risky. You never know if your program is going to get cut, or [if] funding is going to get cut. It's frustrating sometimes because you see the need. There's a high need for supplies, program space and staff."
Nicholas Ammerman of Donors Forum, an organization dedicated to educating, networking and providing resources for non-profits and philanthropic organizations in Illinois, said it is a common challenge for non-profits to lack overhead funding. He said an organization's needs may include paying for utilities, salary supplies and day-to-day operational needs.
According to a 2011 survey by the Donors Forum, there was a significant decrease in the percentage of non-profits reporting revenue declines from 68 percent in 2010 to 39 percent in 2011. The survey also stated that many non-profits feel pressure from the economic recession. Many have sought out help amongst other non-profits.
The non-profits surveyed said that demand for funding had increased from 2008 to 2011 by 11 percent, and it continues to increase.
Idaima Robles is a loan officer at Accion Chicago, also a non-profit organization, which offers a financial alternative to small business owners.
"I wanted to work in something that I was passionate about and where I could help people," Robles said.
Robles has worked in non-profits about three years and agreed funding is one of the most difficult aspects. However, she also said she has experienced other difficulties.
"A lot of our clients have been scammed or have been victims of predatory lending," Robles said. "They're hesitant to take that step and establishing that relationship of trust."
Robles has been working in non-profits, and she said she feels she's making a difference in the community.
"Working with the Latino community is [about] building that trust with our clients," she said.
Vargas said there is a need for more Latina professionals to get involved and give back to these communities.
"Being a leader is taking initiative and stepping up when everyone else doesn't want to," Vargas said.
Lizette Montanez, a student at the University of Illinois at Chicago, or UIC, said she enjoys working with non-profits. She has been able to get her internships through the Chicago Civic Leadership Certificate Program, or CCLCP.  The CCLCP program helps UIC students engage in different communities throughout the city, and Montanez has interned with the National Alliance on Mental Illness. She said she plans to continue working with non-profits for as long as she can.
"Networking is a huge part of that professional development you need to help [people]," Marquez said. "I am a big fan of experiential learning. [It's about] having an openness to do things differently, and hearing out perspectives on how you can reach the same goal differently."
Vargas said the need for non-profits will always be present, and more Latinos need to get educated and informed about resources and services.
"That sense of community service and continuing to pass the torch on, I think it's a part of our culture," Marquez said. "Regardless of where the leadership comes from, I think there's an obligation to pave things forward."
This article was originally published in Latina Voices.
[Photo courtesy NHLI/Flicker]