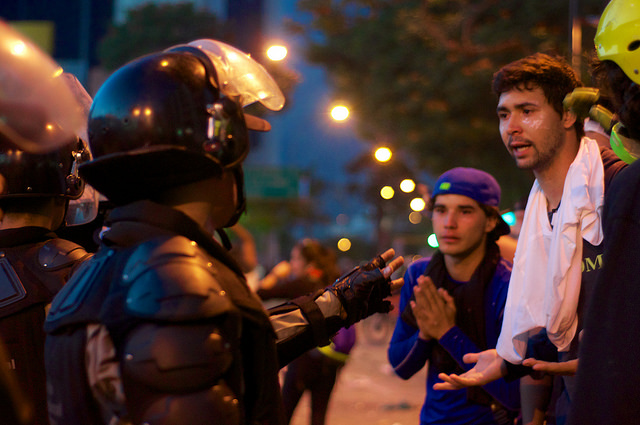 By Patricia Boscán, Latina Voices
She saw me catch my first breath of air and nurtured all of my firsts. She let me go one time, and it wasn't until a few years later that the yearning in my heart called me back to her time and again. Once I got back to Venezuela, I caught my first breath of hot air again. The smell of cheap gas and burning concrete swelter enveloped me as the sun beat down on my pale skin. The sweet taste of my first coconut water from the heart of the street market to the savor of the first lips I ever kissed.
It was also then when I caught the first glimpse of the inside of a dark barrel. The paralyzing fear until the only thing moving in your body is the heavy up and down of your chest with the pounding of your heart. It was my first run-in with a gun, but she quickly taught me to forget the clasp. Yanking the jewelry off works faster. Venezuela saw so many of my firsts and she holds those deep in her grasp as if to keep me connected to her always.
On February 12, marked as World Youth Day, students from all around Venezuela set out on the streets to peacefully protest. There was a case of sexual assault reported of a college student in San Cristóbal that sparked a wave of student protests. But a heavy handed response from the government truly ignited the fire.
On the first day of these protests, countless students were detained, and it provided a repression of the Right to Peaceful Assembly. Also on this day, three lives were lost on both the sides of the vigilante group supported by the government and on the opposition, or fascists as Venezuelan President Nicolás Madurolikes to call them.
Fascism, by definition, is a political philosophy, movement or regime which exalts nation and often race above the individual and that stands for a centralized government headed by a leader, severe economic and social regimentation and forcible suppression of opposition. Again, fascists is a "favorite" term used by the President of Venezuela, as his regime uses violence and excessive force to dismantle large protests of a nation evidently exhausted of this way of living.
According to "What's Up, Venezuela," an online blog, some reasons why Venezuelans protest are insecurity, scarcity, corruption, indoctrination, devaluation, inflation, lack of economic freedoms, censorship, human rights violations and blackouts.
But I live here, in the U.S., a nation which historically and restlessly has defended human rights. The feeling of impotence living thousands of miles away causes me is overwhelming. Over the years I have built more friendships while visiting my native Venezuela than I have been able to do in my 19 years in the U.S.
It is incredibly unnerving to sit on a train daily to get to class to learn something, and then have to come home to my mother every day and give her a hug, knowing that my best of friends are risking to have that very same opportunity daily. They grew tired of fearing for their lives as they made their way to and from their local university. Now they have grown fearless of facing men in uniform with weapons because they are risking their lives either way. My friends might not make it home tonight to hug their mothers goodnight.
Venezuelans in exile have also grown weary in fearing for the lives of their own families and friends. Since early February, the ongoing protests have prompted us to stand in solidarity with our students. Congregating every weekend at the Plaza of the Americas on Michigan Avenue below our flag, we hold our posters up to spread the word about what is happening to our people. We take comfort in each other's company and in song, as we bellow the chants of our Tío Simón, as if with fire in our bellies and pride and pain in our hearts.
We are children weeping for our mother, Venezuela. She is bleeding out, and as we pass out white balloons and flowers for peace and freedom in Venezuela, we find passerbys reluctant. Little heard and lonely, Venezuelans in exile have constantly wondered since the protests began what they can do. At the moment, most reports set the death toll at 28, and over 1,300 arrests. No official figures result from media censorship. Meanwhile, here in the U.S., we sing Venezuela's national anthem to commemorate those who have fallen, and we encourage those who are still fighting.
"Glory to the brave people… Law respecting virtue and honor." – Gloria al Bravo Pueblo, Venezuelan National Anthem.
This article was originally published in Latina Voices.
Patricia Boscán is a Venezuelan-American undergraduate student at Columbia College Chicago. She is currently studying journalism.
[Photo by Andrés E. Azpúrua (a.andres)/Flickr]