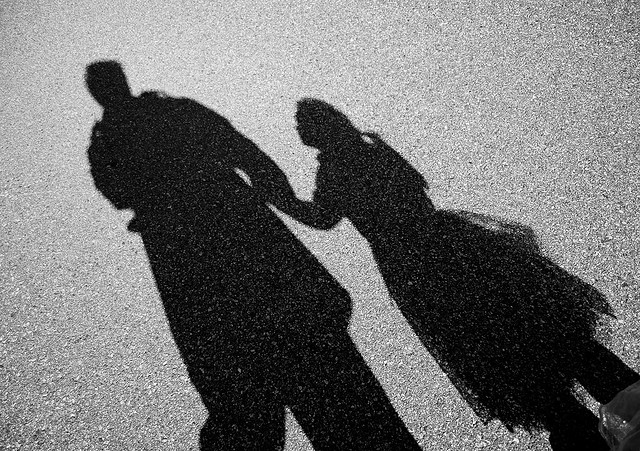 By Jennifer Nava, Latina Voices
I remember very little of my childhood, but the one thing I do remember is going to Mexico for the first time with my abuelita. I was a 3-year-old girl, running around happily with my red Po Teletubbie at the airport. This was also the last time I ever saw my father.
My dad was a married man and I was just another "mistake", like many people whispered only two inches away from me. I spent three months away from my mamí in Michoacan, Mexico. I was having the best time of my life, except I missed her. When I came back I never heard from my father again. He used to visit us occasionally, but then he stopped. That is when mymama became a single parent with only her own income to depend on.
The percentage of Hispanic households headed by women is 22 percent, versus 5 percent with men, according to Pew Hispanic Center. Having both a mother and father heading the family accounts for the remaining 73 percent.
I lived with my mom in a basement in Cicero, Ill. My godparents lived upstairs, which I adored, and I would run upstairs whenever I was bored. My madriña was like Cinderella's fairy godmother to me. Many of mytías also decided to live with us to help take care of me. Despite their good intentions, this also meant my mom had to work more. She had to make up for my tías not working, but she preferred them to stay home with me.
My mom was working full-time and attending classes to learn English. I rarely saw her, which would confuse me as to who to call mom. I didn't realize this until one day one of my tías was leaving to her new house. I ran to the window, watched her leave and yelled "¡Mami, no me dejes!"
I also remember following my mama around the house while she did chores. I never questioned her over my papa and I honestly couldn't care any less about him. A father-figure became unimportant to me. I never caught myself thinking about him. Instead, I would think about my Barbies.
My mama later quit school because I wouldn't eat, sleep or talk. The doctors told her I had depression due to her absence, and I was in need of nurture and love. I became my whole family's little fatherless girl. I hated being viewed as such.
It wasn't until I was six when my mom married. I then realized I felt hatred over all men. Oh God, how I hated that guy! How dare he just come here and steal my mami's love from me! I knew her longer. She's my mom! Get that ugly, hairy man out of her life! I felt my mom was too much of a woman for any man out there.
The day of the wedding was the worst day of my life. She began to treat him better than me. He became her world. I never got along with her so-called husband. I was only happy that she was happy at last. A few years later, my mom got pregnant and had a boy. I was happy because I realized I would still be la consentida for being the only girl. Later, she had another baby boy.
When I turned 13, her husband left her. He left to Mexico and we never heard from him again. Once again a man had left my mom, but this time not with one child, but with two. I gained more respect towards my mom after seeing how hard she worked for my little brothers and me. They were only seven and one. I would babysit them every weekend. After school I would pick up my baby brother from his daycare and the other from school. I learned to change diapers, cook and most importantly, I realized my siblings would grow up fatherless like me.
I promised to help my mother by becoming a second mother to my siblings. After all, I was the one whom they spent most of their time with while my mom worked every day. I was about to turn 14 when my father reappeared in my life after ten years. I never felt a grudge against my father. I guess I never really sat down and acknowledged his absence.
Now, I live with my mama, papa and two brothers. I learned that life works in mysterious ways and that the unexpected is something that should be expected. My relationship with my dad is not like my relationship with my mom. I learned that families never work the way we expect them to. All we can do is hope for the best and make the best out of everything. Life is too short to think about the negatives more than the positives.
This article was originally published in Latina Voices.
Jennifer Nava is a fashion business student at Columbia College Chicago.
[Photo by 
remixoverdrive
]