No-verla, the undisputed prominence of the Spanish Telenovela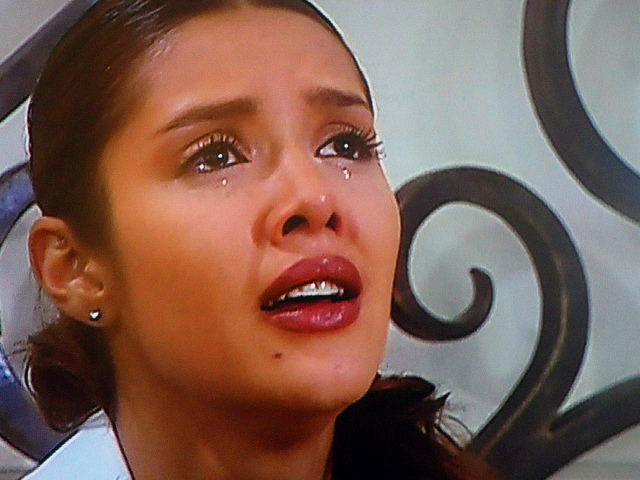 By Patricia Boscan, Latina Voices
Señoras y Señores, it's time. It's just after 1 P.M. and you've just finished eating lunch for an hour past noon, like you do religiously every day. Señoras, you quickly scour the surfaces of your kitchen and tidy up everything in its place before you envelop yourselves in an imaginary drama that is a telenovela.
This is my abuelita's daily ritual. Every afternoon, after a required siesta, as if the novela physically exhausted and emotionally drained her, she comes together with all of her girlfriends for a cafecito held in the living room.
The women arrive suspiciously at  3 p.m. on the dot, slipping through the door as if they are showing up to some kind of secret society meeting. While the rest of the neighbors fear the women sin pelos en la lengua, meaning those who don't mince their words, behind closed doors, the women gossip and tittle tattle about their fantasy world.
Juan Manuel Guerrero is the tall, dark and handsome man who speeds into town on a galloping horse. Maria del Carmen is a village girl, whose hand was already promised in marriage to the son of a prominent and wealthy family by her parents. José Antonio Acosta, Maria's fiancé, courts her in his chivalrous ways. He hopes to one day make Maria feel true love for him, but Maria's true love is mystery, passion, excitement and Juan Manuel.
Señoras, in your dreams of being Maria del Carmen, you so wish to be in a dilemma of choosing between a quiet life with a courteous man who will always provide or an exhilarating one on the run with a very dangerous Latin lover.
But wait! Maria has an evil cousin named Isabella. Isabella captivates Juan Manuel in her seductive ways, but that was not before Maria and Juan Manuel could conceive a baby together. Maria pleads at the indifference of her once lover, though she is already married to José Antonio and her very jealous cousin Isabella is plotting to kill her.
I'm sorry, but I got a little wrapped up in that. Can you blame me?
This is the part of the day where Univision pulls in about 75 percent of the network's Hispanic viewership from the U.S. Numbers like these have become a great source of envy for many  Spanish- and English-speaking networks in the U.S.
According to AHAA: The Voice of Hispanic Marketing, Hispanics spend an average of 17.3 hours a week watching Spanish language television. The undoubted romance between Univision and its faithful viewers led to top prime time ratings in July 2013 for key demographics, surprising competitors like NBC. The Latino population stands at roughly 52 million in accordance with Pew Hispanic Research Center. Hispanics have accounted for more than half the country's population growth between 2000 to 2010.
While there is without question a need for Hispanics to attain news information from networks like Univision, I can't help but dispute an overwhelming desire to discover who actually fathered fulanita's baby.
Go ahead, flip the channel. Throughout the course of the day, predictably, it may go a little something like this: Despierta America to start the morning on the right side of the bed; El Gordo y La Flaca for all the daily gossip; Primer Impacto (which my dad would prefer to call Primer Infarto), an attempt at news information; and finally a more thorough Noticiero Univisión. In between each of these shows, there is a telenovela scheduled. Sometimes there are even two scheduled. Even the news programs make shout-outs to the novelas regularly throughout their run time. At one point, between Noticiero Univisión ending at 7:00 p.m. and the start of Primer Impacto Extra at 11:00 p.m. there are four scheduled telenovelas, one right after the other. This novela schedule is the weekly norm Monday through Friday.
Even at times of national crises, Hispanic viewers of Univision themselves take to social media to decry a clear indifference by the network. While every channel you flip through may be of the same live feed of breaking news, don't be surprised to see an ardent moment of passion from Univisión telenovelas.
So my congratulations to Univisión for achieving top prime ratings for key demographics. As Latinos strive in large numbers to advocate for a well-informed audience, I will continue to hope that English language networks don't follow and that Latinos will get the hint in the name no-vela ("no-verla"). in other words, don't watch.
This article was originally published in Latina Voices.
Patricia Boscan is a journalism student at Columbia College Chicago.
[Photo by 
dno1967b
]