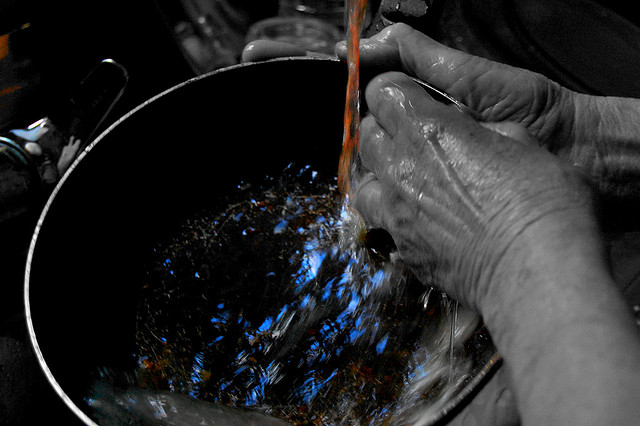 By Jennifer Nava, Latina Voices
Dear abuelita,
I still remember my first summer in Mexico with you. It was as if it had just happened yesterday. I barely remember anything about my childhood. The only memories that have stayed in my mind are the one's that I shared with you.
"Of course I'll teach you about the old remedios," this line from writer Demetria Martínez reminded me of you.
This reminds me of when I had asked you what was the secret recipe you would put in my té de manzanillato stop my tummy aches. Now thinking back I feel bad for you, because I must have been a pain having around always crying every night of stomach aches or knee pains. There you would come half asleep with the crema de veneno de vibora like you would call it.
This snake cream would sting me, and I would soon feel the heat in my knees making my pain go away. You sat next to my bed until I fell asleep. You always told me things I never understood, like the stories about the witches jumping around up and down on los cerros. I was never frightened by witches in the hills.
I remember waking up in the middle of the night and looking out the window towards the big cerros waiting to see the witches light up, and suddenly jump up and down. Unfortunately, abue, I never saw anything. I always wanted to see that.
I would think that the witches were hiding from me. They sensed me looking out the window I would try to secretly peak out, but nothing worked. All the remedios you gave me are now instilled in me. I was just thankful that you did not believe in doctors because I hated doctors. Except that one time you took me to get medicine because I kept throwing up. Those doctors were so mean they gave me two-inch size pills when I was only 5 years old.
I knew so well you crushed the pill every morning into powder, and put it inside my orange juice so I wouldn't taste it. 'Til this day, I have trouble swallowing pills. I personally still crush my pills. That time was the first time I was ever introduced to a pill, and it was horrendous.
I learned so much those three and a half months I stayed with you. I learned my prayers. Ever since my time in Michoacán, Mexico with you I have never gone to sleep without quickly doing what you always told me to do before going to bed.
Persignarme. I admit one time I forgot to cross myself.
I quickly woke up in the middle of the night and did it real quick because I felt the need too. I am not the little 5 year old anymore. Now I am the 19 year old that has learned so much from you. Many of the things I do now are because of those three and a half months in Mexico that made me cherish my heritage, and appreciate the little things in life.
Even though we were in a small little house with no heater or air conditioning, we were happy together.
I remember the baths when you took me outside and put me in the huge bucket filled with water and the cute little curtain you put up so one would see me.
These were the highlights of my childhood. Money can be a problem to many, but to me the biggest problem is not being to relieve those moments with you. I look forward to making new ones with you very soon abue. I love you.
Yours truly,
Tu niña
This article was originally published in Latina Voices.
Jennifer Nava is majoring in fashion business at Columbia College Chicago.
[Photo by 
Sundust_L
]