Just 1 in 10 pediatricians offer autism screenings in Spanish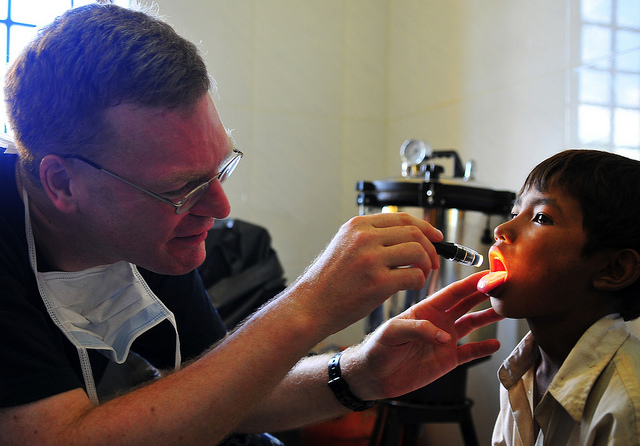 By Jacquellena Carrero, NBCLatino
Many studies have shown that Latino children are less likely to get diagnosed with autism than other kids, and according to a new study, language appropriate screenings may have something to do with it.
The study, which was published in the journal Pediatrics, found that just one in ten pediatricians offer screenings for autism spectrum disorders in Spanish. Researchers surveyed 267 primary care pediatricians in California, in an effort to investigate the delay of autism diagnoses in Hispanic kids. Latino children are typically diagnosed with autism more than two years later than their white counterparts.
Dr. Katharine Zuckerman, study author and an assistant professor of pediatrics at Oregon Health and Science, said that the time at which a child is diagnosed with autism can make a huge different on treatment.
"Early identification of autism is really important because it can lead to a better outcome for the child," Zuckerman says, citing the importance of diagnosing all kids – including Latinos – early and accurately. "In California there's so many Latino kids that we need to reach because if not we can't protect a huge portion of our population."
While more than 80 percent of pediatricians offered Latino kids some form of developmental screening, just 29 percent offered Spanish-language autism screening as recommended by the American Academy of Pediatrics (AAP). Most of the surveyed doctors also said that they found Hispanic parents were less knowledgeable about autism spectrum disorder than white parents.
Zuckerman says the findings demonstrate a critical need for pediatricians that speak Spanish as well as a need for outreach into Hispanic communities.
"We also need to not just have more providers that speak Spanish but more providers who are Latino and who can work with that community. Parents would be more likely to share their concerns," she says.
In the study, the researchers called on pediatricians to develop tools to reduce cultural barriers. They pointed out the "Learn the Signs. Act Early" campaign by the Centers for Disease Control and Prevention (CDC) as one example of an effort to reach Spanish-speaking parents.
In May, Autism Speaks launched a new campaign designed to reach Latino and black parents. The group is partnering up with the Ad Council to create English and Spanish ads, and also working with churches, local community groups and federal and local partners to spread the message to parents.
Jesse Mojica told NBC Latino when the campaign launched that he supported Autism Speaks' outreach because he, like many other Latino parents, never suspected autism as the cause of his son's behavior.
"We went through a lot of the maybes, may be Adam is losing his hearing, may be Adam is shy like me, we went through all the maybes and never thought he had autism," said Mojica.
The CDC estimates that 1 in 88 children in the United States has an autism spectrum disorder, and it is most common among boys (1 in 54).  A recent CDC study pointed out that the largest increase in the number of  children diagnosed with autism occurred among Hispanic and African-American children.
This article was first published in NBCLatino.
Jacquellena Carrero, Freelance web producer: Jacquellena is a multimedia journalist with a passion for writing and working behind the camera. Jacquellena is proud of her Puerto Rican roots and hopes to get more stories on Latinos into the mainstream news media. She graduated from Columbia University with a degree in Political Science in Spring 2013.
[Photo by 
myfuture.com
]