The Real Housewife of Ciudad Juarez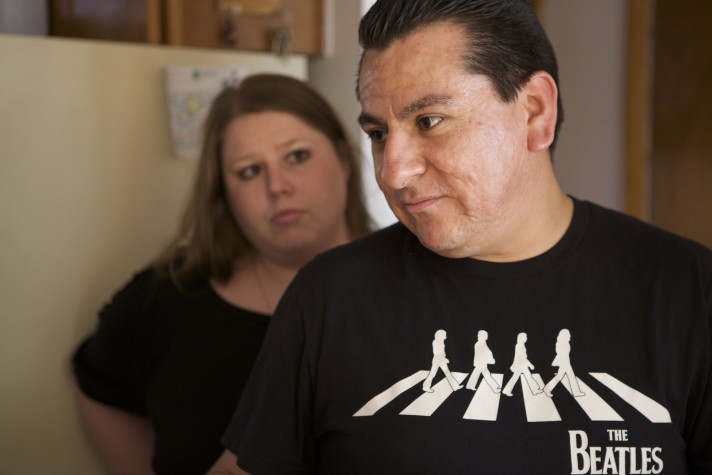 By Debbie Nathan, The Texas Observer
It's 5:45 a.m. on a Monday, and we're stuck in traffic, slowly inching northward on a bridge that joins Mexico to the United States at El Paso. This early in the morning the sky shines navy blue with a few stars still out, and 28-year-old Emily Cruz, who talked my ear off the night before, is still too sleepy to chat. Instead she stares groggily into her smartphone at a YouTube video of the sassy comedienne Jenna Marbles acting drunk. As Marbles smears herself with gobs of eye shadow and cheek blush after several gin and tonics, Emily inches her SUV forward in a vast line of stop-start cars and belching trucks, all pointed north. They're flanked by scurrying burrito vendors, raggedy windshield washers and armed Mexican soldiers.
Emily has no idea how long it will take to enter the United States. An hour? Two hours? More? There are no bathrooms near the bridge line, and she wonders whether, if it takes too long to cross, she'll end up peeing in her pants. If she pees, does she have a change of clothes in the back seat? When she finally reaches the U.S. Customs and Border Inspection checkpoint, how will the agent act? Nasty? Indifferent? Friendly? Will she make it to work in El Paso on time?
To calm her anxiety, Emily dabs and blots and primps as she steers through the noise and confusion. The daily trip across the bridge used to give her panic attacks. That was before she learned to immerse herself in everyday routines, applying mascara and blush as she travels toward the border at a snail's pace.  She will spend the day working in the United States, the country in which she grew up and the country that wouldn't accept her Mexican husband. She has resigned herself to her life in the violence-torn Ciudad Juarez, where, to her surprise, she often feels happiness.
Happiness is what Emily has been cultivating since 2005, when her surname was Bonderer and she fell in love with Raymundo Cruz, an undocumented Mexican. He worked at an ice cream factory warehouse in the Phoenix area. They met at a nearby apartment complex where the two were neighbors.
Raymundo is a quiet, gentle man, though his face is slightly pockmarked, giving him the look of a tough guy.  He can be tough, in just the way Emily once needed. She was a methamphetamine addict when they met. She could barely hold a job, and when she was high, she thought she was the cleverest, most beautiful woman in the world. Her previous boyfriends, also addicts, agreed with her. Raymundo didn't. He "would tell me I was a fucking idiot for doing drugs," Emily recalled recently.
She tried to deceive him about her habit.
"I would wait until he was fast asleep before I crept out to the living room to get high. I would smoke bowl after bowl, hiding behind the couch. I would slip into bed an hour or so before I thought he would wake up, and sing songs to myself in my head and make plans to be a famous something or other.
But Raymundo wasn't stupid, and Emily "decided that it was his fault that I couldn't stop using." She left him for a few days, then woke up one morning knowing something had changed. She grabbed a pen, picked up a calendar—it had the Virgin Mary on it–and drew an X on the day's date.  It was the day she decided to stop using drugs, and she has been clean ever since.  She credits Raymundo for saving her life then, though he barely spoke English and she hardly knew Spanish. They were married in 2007.
At first it didn't matter that Raymundo lacked papers. Then it did. The new Mrs. Cruz set out to help her husband get a green card, and she thought it would be a snap—just fill out some documents and wait a bit in Arizona till they got processed. She didn't know the law had changed drastically in 1996, from a relatively benign and welcoming system to a punishing set of statutes called the Illegal Immigration Reform and Immigrant Responsibility Act.
By the time Emily and Raymundo wed, undocumented spouses of U.S. citizens could no longer pay a fine and wait a few months in the United States for their applications to be processed. Instead, they were forced to leave the country and wait up to 10 years before they could apply for a waiver to allow them back into the United States legally.
Things were worse for undocumented immigrants who'd been caught living in the U.S.  and deported, only to sneak back in without papers. If they were caught a second time, they'd be banned from the United States for life.
Raymundo had first came illegally to Arizona in 2001. Three years later he'd been caught and sent back to Mexico—then he'd promptly returned. This act, Emily realized with shock, would earn her new husband permanent banishment. He could eventually apply for the waiver by arguing that Emily would suffer extreme hardship if he had to live outside of the United States. But before he could apply, he'd still have to live in Mexico for a decade.
Raymundo didn't want to leave the United States. But he and Emily lived in Arizona, home of Sheriff Joe Arpaio and one of the most restrictive anti-immigration laws in the country, Senate Bill 1070. The law permitted local police to act like federal border patrol agents, stopping people and checking their immigration status on practically any pretext.
SB 1070 was enacted in summer 2010. Emily and Raymundo felt terrorized. Worried about being stopped for something as minor as a broken tail light, they hid at home, leaving only to attend to necessities such as their jobs. Every day after Raymundo drove to work, Emily was seized with shame—she felt like a drug dealer—and with fear that her husband had been caught and jailed or deported. She wanted a safe, happy marriage. An American marriage. She vowed to bring Raymundo out of the shadows, even if that meant expatriating to her husband's homeland for ten years.
She did research on the internet and learned that in Mexico, Raymundo could expect a job that paid, at most, $50 a week. There was no way they could live on that. But if they moved just across from the U.S. border, Emily learned, she'd be able to cross into some American city every day and have her own job. Her earnings would far exceed her husband's. With her as main breadwinner they'd be Mexico's equivalent of middle class.
But which U.S. border town should they live near? Laredo seemed too small for ready employment. San Diego is almost an hour's drive from Tijuana. Her best bet, Emily realized, was El Paso, with its population of over 700,000 and its immediate proximity to the international line.
The problem, of course, was that El Paso's  sister city was narco- and violence-ridden Ciudad Juarez, which had become known as "Murder Capital," and the most dangerous city in the hemisphere if not the world.
The first night Emily and Raymundo spent in Juarez was at a down-at-the-heels motel on a side of town known for its homicides. Emily softly cried herself to sleep. Out on the street the next day, searching for a house to rent, she passed soldiers wearing black ski masks and carrying machine guns. She burst into tears. Less than two weeks later, she encountered a corpse in the street, drenched in blood.  It was the man from the corner, a vendor. Minutes earlier, Raymundo had purchased a newspaper from him.
It had taken Emily only a few days to see a dead body in Juarez. She wondered what would come next.  She felt, as she would later put it, "scared shitless."
But amid all the scariness, something surprising started happening, something Emily had never thought would be possible in Juarez.  She realized she was starting to like the place—even love it.
The change was kick-started by the Internet. Back in Arizona months before the move, while doing relocation research online, Emily had discovered that hundreds, possibly thousands, of other husbands and wives like her and Raymundo were living up and down the south side of the US-Mexico border. At least twenty such deportee couples, Mexican men and U.S.-citizen women like Emily and Raymundo, were hunkered in Juarez.
Many couples hoped to win waivers to the husband's "inadmissibility" to the U.S., as the American government puts it. Depending on a spate of complicated factors, getting the waiver could take one year, three years, ten years or longer. Some couples would never get it. (One husband, a fluent English speaker, had crossed over an international bridge when he was younger and told a U.S. immigration agent he was an American citizen. Years later, after marrying, he naively confessed his transgression while applying for a U.S. visa—not knowing that lying about one's citizenship triggers an immediate, lifelong ban.) Short-timers, long-timers, lifers—all were making contact on the web, bonding over coffee klatches and picnics, helping each other to survive as strangers in a troubled land.
That's how Emily met Lynn and her husband Jose. (the Observer is using her middle name, at her request, to protect her children's privacy). Lynn met Jose back in 2000 when she was working at a small-town convenience store on the East Coast, a place with many Mexican farm worker customers. Jose came in one day to buy coffee and the couple fell in love. After their wedding, they started having children. But Jose began having trouble with immigration authorities He became stuck rounds of deportations, illegal re-entries, and threats of long prison sentences from the government. Lynn decided to move the whole family to Juarez.
They have little money there. Their tiny house has been robbed. The kids, ages four to 14, have witnessed shootouts and seen corpses. Monday through Friday, Lynn drives the older children to El Paso, where they attend public schools for free by falsely claiming to live on the U.S. side of the border. They spend their weekdays in one of  America's safest cities—El Paso had only 22 murders last year. Yet the children say they like Juarez better. You can play in the streets there and buy a popsicle on every corner. Besides, Jose – "Papi," they call their dad – can never be with them in El Paso, but Papi is always in Juarez.
Lynn advised Emily and Raymundo about which neighborhoods to settle in, and she drove them to buy groceries. It was on one of these trips, to look for a used refrigerator, that Emily saw something that blew her mind—in a good way.
It was Los Cerrajeros, an enormous, outdoor flea market, stretching down the street for what seemed like miles. Emily thought Los Cerrajeros was the coolest thing she'd ever seen. She found not just a fridge but a washing machine, and paid $180 for the set. Carting away her finds, she planned another visit to the market for a better look. With a start, she realized she was enjoying Juarez.
And she quickly found a job in El Paso as the office administrator in a branch of a national company. The pay was barely above minimum wage, a pittance in the US but good enough for Juarez. Emily began to settle into her new, bi-national life.
That was two and a half years ago. Now, Monday through Friday before dawn,  she drops Raymundo off at an automotive parts maquiladora, where he makes $43 a week. Then she proceeds to an international bridge that joins Juarez to El Paso. Come evening, she returns home, where she cooks dinner, pats Meeko, the couple's orange-haired Pomeranian, and Lucy, the miniature Pinscher that Raymundo rescued from a family whose kids were abusing the dog. Afterward the couple cuddles. Later they stroll the block to enjoy some fresh air and grab a snack. They watch their backs during their stroll. If Raymundo later walks by himself to the corner store, Emily calls his cell phone to make sure he got there OK.
They can't help worrying. Their neighborhood of neat, small homes is enclosed by a white, metal fence and gate with a little guardhouse, and residents hired a grey-haired man to work in it. It's not clear what difference his presence makes: I was sitting with Emily on her patio a few months ago, and from the street came the report of gunfire. I flinched but Emily didn't: she said she heard the noise frequently. And she recalled the day she and Raymundo were driving to a friend's home and saw a bullet-riddled body. It was yet another newspaper vendor, probably punished for failing to pay the cartel his weekly kickback.
Emily was less surprised by this murder than she was by the callousness of the bystanders, including herself. The man had been killed near a convenience store, and as he lay in the street, people walked past him on their way to buy milk.  As for her and Raymundo, as soon as they had heard the shots they had rolled up their car windows and turned down the stereo. "As though this would protect us from stray bullets," Emily remembers.
Her eerie behavior during a shooting is just one of the things Emily writes about at night after pouring herself  a glass of wine,  carrying it to her laptop, and updating her blog, which she jokingly calls The Real Housewife of Ciudad Juarez. Jokes aside, the blog is an intimate chronicle of what Juarez is like for residents who are neither very rich nor very poor but who are just trying to live decent lives in a violent but vibrant city.
A Freudian therapist reading Real Housewife would diagnose it as seriously oral. Emily loves to talk, to eat, and to talk about eating, all of which serve her well in Juarez. Within a few months of moving there, she could rattle off Spanish at normal speed, with excellent grammar and pronunciation. She developed her language skills by hitting the streets—usually in search of food.
Like the hamburguesa Hawaiiana. The Real Housewife of Ciudad Juarez celebrates this dish and the open-air vendors who cook it, in all their delicious glory, as the blog puts it. They grill a sirloin patty and top it with grilled pineapple. American cheese and carne bistec, and wedge it between a buttered then grilled bun. Simple. Sweet. Savory. Ahhhhhh.
The Real Housewife fetes late-night cuisine. During the first year of her move, Emily went back to the United States interior a couple of times and was surprised at how much she missed being able to walk to the corner for tacos at 10 o'clock.
Food isn't the only thing to extol about Juarez. I love the emphasis on family instead of career, Cruz has written on her blog. I love being able to get in a screaming fight or have my dogs barking at a bird for an hour and no one calls the cops. I love being able to walk to anything I need even though I'm not in a city center. I love how warm and accepting the people are.
But most of all, Cruz loves Juarez as "a hell on earth but also a heaven, the first place that has opened its arms to my husband and me and allowed us to be together, to make a life for ourselves without worrying about one of us being taken away. To be calm, with no fear of separation. It pisses me off when people in El Paso say negative things. Juarez is a place people call their home. The Spanish word I feel for it means something like "love" in English, but also something more. The word is cariño.
Not all exile wives feel cariño. Some are especially conflicted about the absurd disparity between Mexican male deportees' low wages in Mexico, and their American spouses' much higher earnings in El Paso. In Mexico, a country where manhood is still defined by men being breadwinners, the sudden role reversal can trouble a marriage. One wife, on discovering her husband rooting in their bathroom trash and squeezing discarded toothpaste tubes, concluded that it was not thrift that inspired his behavior, but shame at his lack of earning power. Problems such as this led the couple to separate briefly while the wife returned to America.
Emily, herself, sometimes fantasizes about going back, but with her husband at her side. Real Housewife has described their imaginary repatriation:
I look at the familiar window washers and the men who have been offering me burritos and sub-par newspapers and sodas every morning…For some reason they look different today but I can't quite put my finger on it. Maybe because I know I won't see them every day anymore?…
[I]t's our turn and we pull up to be inspected..…it's an agent that I know. …He's surprised to see someone else in my car. …. He asks me where we're going…
We're going to the United States.

I can see he's a bit teary eyed when I introduce him to my husband for the first time after so many years… I begin sobbing uncontrollably with joy. 
In reality, Emily's crossings—always without her husband—are met with indifference by Border Patrol and ICE officials. At least, that's mostly the case—except for the time an agent mocked her marriage. Real Housewife describes how he subjected her to an inspection not just of her car but of her life.
Anything to declare? 
No sir.
What was the purpose of your visit to Mexico ma'am?
I live in Juarez…
Do you like it better in Juarez?
Do I like it better? I don't like living in Juarez better than living in the US, but I like living with my husband better than living without him.
 How long have you been together?
Seven years.
That's a pretty good amount of time. It's a shame, though; you'll never know what he's really in it for. Everything can change once he gets that green card. You know how it goes. Everyone has a friend of a friend of a friend that got connived into a marriage for a green card. I really hope that doesn't happen to you. Anyway, have a nice day.
She did not file a complaint—"I don't have time for the Border Patrol," she says. Subsequent blog entries dealt with the usual little pleasures of Juarez: finding a house to rent that was bigger, prettier and safer than the current one. Learning to cook a tasty new Mexican recipe for dinner.
Juarez has gotten safer lately. In 2010, the year Emily and Raymundo moved there, over 3,000 were people were killed in twelve months. Last year the annual homicide count was down to 750. On average, that was still more than two murders a day. But more people are out on the streets now, still watching their backs, but with less terror than before. People say they feel happier. So does the Real Housewife of Juarez.
Late last year she began musing about another kind of happiness: immigration reform. It was all over the news, especially after January of this year, when the Obama administration changed the rules, allowing undocumented spouses to remain in America while authorities decide whether or not to grant them waivers to deportation.
That reform is a Godsend for many, but it applies only to those who are still in the United States and are just starting their paperwork. It does not help the Cruzes—Raymundo was deported seven years ago. There's no concession for people who have already left America.
The latest hope is the immigration bill recently passed by the U.S. Senate and the possibility that they wouldn't have to wait until 2020 to apply for a visa to reenter the United States. But the House would have to vote yes to immigration reform anyway before Raymundo could apply for a waiver to his deportation based on hardship to his US-citizen wife. A favorable House vote is highly unlikely. Even if it were to happen, what government official, investigating Emily's output on the web, would conclude that living in her beloved Juarez is a hardship?
This is what she was musing about one day recently, at dawn crossing the international bridge. Jenna Marbles was slapping on her drunken makeup, but Emily's blush, lipstick, and eyeliner glowed with sober precision. Her car reached the U.S. Customs and Border Patrol checkpoint and she consulted her watch. She'd only spent forty minutes this morning in line—the efficiency cheered her.
Her agent turned out to be a male with a military buzz cut.
"Hello," he muttered, with all the verve of a robot, or someone who still needed coffee.
" Good morning!" Emily chirped.
"What are you bringing with you today."
"Nothing!" she said, sweetly.
"Is this your car."
"Yes!" She waited as he stonily peered at her papers.
Awrighthaveaniceday," the agent muttered again, turning six syllables to one. With a hand he breezed her through.
Emily stepped on the gas, ready to have that nice day. First she would spend eight hours in America, making a living for two. Then she would go back over the bridge, to be happy, and a wife, in Juarez.
This article was first published in The Texas Observer.
Debbie Nathan is a Texas native and writer who divides her time between New York City and the border. She is author, most recently, of Sybil Exposed: The Extraordinary Story Behind the Famous Multiple Personality Case.
[Photo courtesy The Texas Observer]