L4LL summer literacy program encourages Latino children to read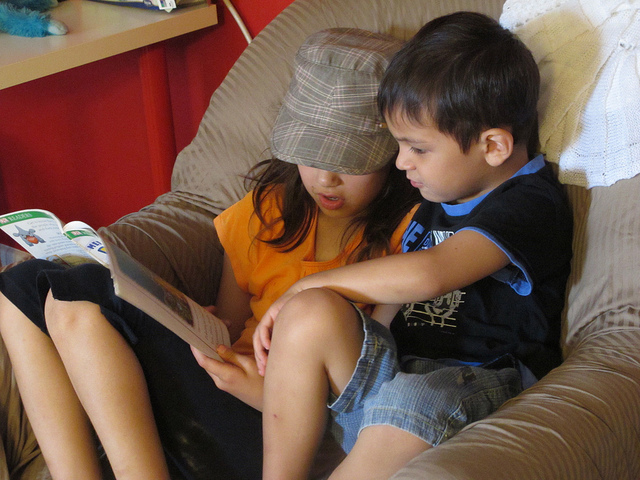 By Jonathan Muñoz, Voxxi
Latino children are lagging behind their counterparts in school, and summer does not help matters. Throughout the two to three months they have off, many children lose some of what they learned during the academic year, as many studies point out.
Latino children usually lag behind their non-Latino counterparts as early as preschool. A new program is eager to change that and help in closing the educational gap between Hispanics and non-Hispanics.
Latinas For Latino Literature (L4LL) was created to promote Hispanic authors and raise literacy rates among Hispanic children. Four Latinas are behind this initiative, and VOXXI spoke to co-founder Viviana Hurtado about it.
L4LL aims to target Latino children of all ages
L4LL — now powered by a partnership with Google — was designed for kids ages 0-18 and with the participation of the entire family in mind. It was inspired by a New York Times piece that described the lack of Latino characters in children's books.
The group created three different programs for three different types of audiences: kids, young adults and reading groups.
The goal is to encourage children to read a total of eight books and write reports throughout the 10 weeks of the program. The whole program is free and available over the web — with prizes available to some of those that complete the required number of readings.
"Children and parents are going to make a 'Promesa,' a pledge, to read eight books, those that do read eight books are entered in a competition for prizes that include tablets and other prizes," Hurtado told VOXXI. She added that they are getting the parents involved as much as they can with their Latino children, whether reading to their toddlers or engaged in reading with their teens.
"We have the parents engaged in every step of the way," Hurtado said, "because when parents are involved, that maximizes education success."
L4LL has provided a recommended reading list, divided by age as well as reading level, making sure that the right benchmarks are highlighted and enforced for every age group. For example, the smaller childrens' books focus on the fundamental basics of numbers, shape recognition and vocabulary.
The goal is to expose children to new books and have them enjoy the books that they are reading. Children can read whatever they want to read, but the list is there to provide motivation.
The main purpose of the reading list, however, is to promote Latino literature — all the authors on the list are American Latinos — which is lacking among school summer reading lists.
As The New York Times reported, Latino children are having a hard time finding books with characters that they can relate too. L4LL addresses the lack of this type of literature within the Latino community in order to create a better reading and learning experience for Latino children. According to Hurtado and a number of experts, when children see themselves in books, it creates a better connection and reading experience.
Around the world
About 500 families from the U.S., two Latin American countries and even Germany have signed up for the little kids program and the number is growing, Hurtado said.
"We're already national. We have families signed up in Mexico, in Colombia, a U.S. base on Germany," Hurtado said. In five years, she hopes that the program reaches the 50 million Hispanics in the U.S. — the fastest growing population in the country, of which one-fourth of the children are in preschool…children who will become the future employees in the U.S. and will have to be well-read and educated.
The authors on the reading list include Duncan Tonatuith — whose books were illustrated with inspiration by ancient Mexican art and deal a lot with migration and with lives of Mexican and American children — Pat Mora and Lulu Delacre.
"These authors are telling stories that Latino children can relate with. When there is a point of view that a person can relate with, it sparks imagination. If we can get students to relate to the characters in the book, they can find characters that resonate with them," Hurtado said.
L4LL facilitates immigration conversation
One post on their website, which Hurtado pointed out got the most hits, was one that featured six children's books about the immigration experience.
In a time when immigration is a hotly debated topic and people are finding it hard to really explain the experiences that Latino immigrants — many of them children themselves — are going through, these illustrated books capture the essence of the immigration story and tell it in way everyone can understand. Hurtado says it helps Latino children and non-Latino children, whether U.S.-born, immigrant or undocumented talk about these issues.
According to Hurtado, L4LL's program is the "first-ever online nationwide Latino children's summer reading program." She also says the reason that Latino children are the target audience is because there isn't anything else like this out there for them. Hurtado said that they are not trying to replace the literature read by children in the U.S. with the reading list, only that this initiative hopes to infuse new authors and books for the English, Spanish or bilingual child.
Technology is involved in almost all aspects of L4LL's summer reading programs. Registration is online, families receive email newsletters, young adults must create video book reports, and computer tablets are offered as prizes.
"Latinos love technology. Latinos are naturally are gravitating toward technology, that's why it is so important. We're powered by Google, we are using Google Hangouts to engage authors, we created out own YouTube channel, we're curating a video library of books," Hurtado said.
This article was first published in Voxxi.
[Photo by 
The Familylee
]