10 Famous, Memorable And Notorious Latina Maids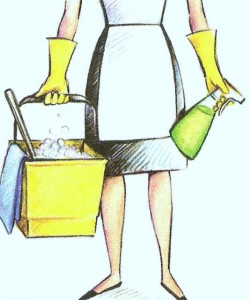 By Enrique Limón, of El Zonkey Show and on Twitter
They are efficient, stealth, and not to mention HUGE in Japan. ¿A qué hora sales por el pan? They're maids, and with all this talk about them as of late they're the hottest thing since sliced Bimbo bread.
Yes, domestic servants come in all shapes, sizes and ethnicities. But, as the stereotypical Hollywood machine has taught us time and time again, in the ethos of servitude nothing beats a Latina maid; so, armed with the inspiration that only sniffing a bottle of Pato Purific can give, we polished our brains and Swiffer'd the web to come up with this list of 10 Famous, Memorable and Notorious Latina Maids.
Curious to find out which saucy sirvientas passed our white glove test? Read on!
10. Nicandra Díaz Santillán
It takes a lot to kink the hairs of former eBay CEO and GOP California gubernatorial candidate Meg Whitman's perfectly coiffed Dutch Boy 'do, and in 2010 Miss Díaz did just that. Her employers withheld taxes and provided her with a W-2 form; only problem was she had entered the United States illegally and was working under an assumed Social Security number. Enter whoremonger attorneyGloria Allred, and the egg timer on these enchiladas went ding! We side with Whitman on this one, as she obviously hired Díaz  using the Smucker's rule: With a name like Nicandra, she had to be good.
9. Jennifer Lopez
In 2002, J.Lo strapped on an apron and once again hopped on the 6 train to star opposite Ralph Fiennes in Maid in Manhattan. In classic telenovela form, senatorial candidate Fiennes stumbles in on chambermaid .Lo and thinking she's bourgeois to the core proceeds to woo her. A Dumbo-esque revelation of how paperclips relieve the Senator's pre-speech nerves, a dog walk, and a joke about sitting on Fiennes' face later, the stage was set for a love story for the ages. It was like the whole Dominique Strauss-Kahn debacle, but with a happy ending. Strike that I said "happy ending." Strike that I said strike.
8. Zoila Chávez
"Behind every great OCD-striken interior designer lies a Nicaraguan maid," the saying goes; and Chávez—the breakout star of Bravo's Flipping Out, embodies the axiom to a T. A modern-day house flipping plantationist,patrón Jeff Lewis notorious for working Zoila to the bone, cutting down hernovela watching time and compensating for overtime in El Pollo Loco. One time she asked for her birthday off, to wich Lewis responded "Didn't you just get off for Christmas? Now you want another holiday off?" Later in a talking head he stated: "She wanted all of Saturday and she wanted all of Friday. Well, what am I going to do? Who's going to do my laundry? Who's going to make me breakfast? She's so selfish." After making her come in and presenting a garish portrait as a gift, Lewis mysteriously came down with food poisoning after eating some tainted bacon—which of course, Zoila cooked for him. Selfish? Perhaps. Smart as hell? You bet your sweet floor plan.
7. Martica
Not be confused with the popular "Toy Soldiers" songstress, Cuban-born Marta "Martica" Rodríguez' caffeinated rise to the top began in 1998, when after setting up a modest coffee stand close to a Univision filming location, she was asked by the network brass if she'd be interested in becoming their in-house coffee maker for the crew and guests of the then new El Gordo y La Flaca entertainment program. With unique charisma, and having pinned down a succesful water to granule formula she was later asked to appear on camera for a segment, and a star was born. Daily interventions, an best-selling autobiography and a satellite gig as a paid spokesperson for cleaning supplies followed. She's dropped a chart-topping reggaeton single, is an avid low rider enthusiast, and once defeated members of the Taliban by throwing espresso in their faces as witnessed in this video. Always in character, she never ditches her trademark blue and white garb…not even on the red carpet. She now gets her coffee at Starbucks.
6. Salma Hayek
When the sultry Mexican actress  immigrated to the Unites in 1991 she was faced with a harsh truth: her options were limited to chola,puta or you guessed it, housekeeper. A couple of years and a suggestive dance with an albino python later, her status as a bona fide sex symbol was cemented. In 2006, with a succesful production company and an Oscar nomination under her belt, further victory came in the form of a chubby, glass-wearing would-be fashion editor named Betty Suarez. As executive producer of ABC's Ugly Betty, and in a nod to those casting agents who readily handed her the chacha role early on in her career, the future Madame Pinault cast herself as a maid for the show-within-a-show soap opera enjoyed by the Suarez patriarch.
To read the rest of the list see the original post at El Zonkey Show.
[Photo By
Cryosites
]