A Latino Civil War Lieutenant: Augusto Rodríguez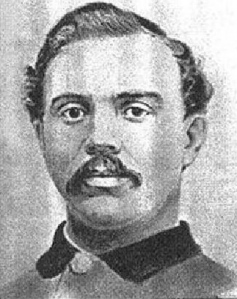 By Efrain Nieves
This week marks the 150th anniversary of the start of American Civil War. In an effort to link up our contribution, albeit not often mentioned, during the civil war we decided to introduce you to the men that served and received condecorations for their service and valor. Our first feature of this series is Puerto Rican born and Union Army Lieutenant Augusto Rodríguez.
Lieutenant Augusto Rodríguez was born in 1835 in San Juan, Puerto Rico. Rodríguez migrated to the United States and according to the1860 census, was one of the only 10 Puerto Ricans living in New Haven, Connecticut.
In 1862, Rodríguez joined the 15th Connecticut Regiment, Connecticut's volunteer infantry also known as the Lyon Regiment which was named after the first General officer killed in the civil war Nathaniel Lyon. Rodríguez's Regiment was first assigned to serve as the defense of Washington D.C. until September 17, 1862.
In December 1862, Rodríguez's Regiment marched to Virginia where, under the command of Major General Ambrose E. Burnside, they fought against General Robert E. Lee's confederate army in the battle of Fredericksburg.
In March of 1865, Rodríguez along with his men, joined the battle of Wyse Fork under the command of Major General John M. Schofield and were victorious against the Confederate army.
Rodríguez was awarded the American Civil War Campaign medal and was discharged on July 12, 1865. Soon after Rodríguez became a firefighter for the city of New Haven, CT.
Pa'lante salutes this patriot and demonstrates that Latinos' contributions to this nation is not recent. Back in 1865 Puerto Rico was a Spanish subject nation, not a U.S. commonwealth. Therefore, Rodriguez's joining the Union Army was not related to being a U.S. citizen but an act of voluntary enrollment by a man that felt compelled to defend his newfound country.
References: