DREAM Act Doesn't Pass, 55 To 41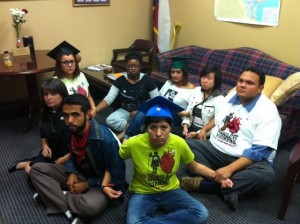 I had hoped against all hope that the DREAM Act would pass this morning, but alas, it did not. It went down in the Senate 55-41. We'd written extensively about the need for this law, the late Carlos Guerra spoke about its importance, hunger strikers in San Antonio and other parts of the country were committed to activism to get it passed, Senators' phone lines jammed up as thousands of people across the country pleaded for this much-needed bill, and now it's effectively dead for a few years.
Perhaps one of the major takeaways from this vote is that Latinos need to vote and be organized so that we're ready for the next election. We already wrote about the oncoming surge of voting-age Latinos; watch what happens with the Census when tons of Latinos are counted, pretty soon everyone is going to want to be our friend.
I personally intend to register as many Latinos to vote as humanly possible. Will you? This year I was starting graduate school and probably didn't do as much as I could have — but I did a little bit. If every one of us does just a little, it can go a long way to make a big difference.
I don't have children, but that doesn't mean I don't want to. As a twenty-something Latina thinking about what type of future I'd like for myself and my yet-to-be-formed family, I see the DREAM Act as a big part of that. I want to make a family and raise children in the country that I love and am proud to be a part of. I want to tell my children that they are part of a legacy of people who were never perfect — but always tried to be better. I want to drop my kids off at school in the morning and know that they'll be sharing a classroom with other children who not only have the courage to dream, but who live in a world that wants them to.
I didn't think that I would cry over this vote, but I did — I am crying — because I want my country to be the place where equality and opportunity meet. That is simply not the case right now, as the DREAM Act vote shows. We'll keep you updated here at NewsTaco on the future of the DREAM Act, the Census figures and what you can do in the future to help make this country better for your unborn children.
[San Anto DREAMer Photo Courtesy Lucy Martinez]