¡Qué Rico! How to Make Healthy (Re)fried Pinto Beans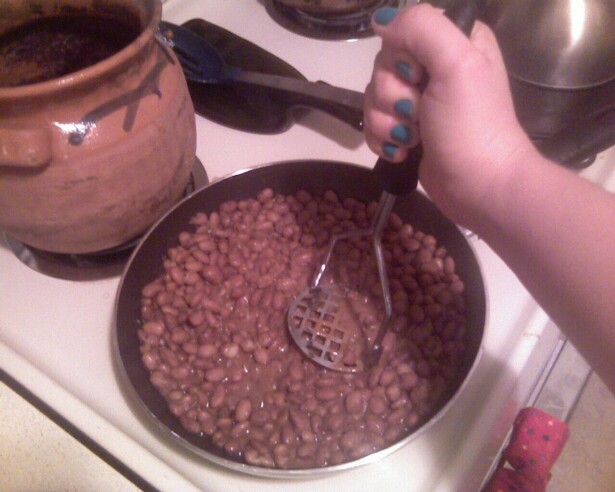 Hey y'all, not to give away the family recipe or anything, but there are a few easy and healthy things you can do to make your refried beans just a little more healthy.
1.) Clean the beans, taking out all the halves, rocks, etc. Wash them until the water is no longer brownish (it's dirt you guys).
2.) If you want to reduce boil them at a medium heat, leave the beans to soak before boiling.  I usually add a few cloves of garlic to the beans while they boil. If they're taking forever to get ready (when soft) then you can add some butter (tablespoon or less) to speed up the cooking.
3.) Put some olive oil in a pan, heat it up and then use a sieve spoon to take out just the beans from the pot to fry them in the oil. Using olive oil is one healthy way to reduce fat.
4.) Once the beans are fried to your taste, use a bean masher (commonly referred to as a "potato masher") to mash the beans — being careful not to scratch the pan and thus end up with pieces of teflon in your beans.
5.) Add the water from the bean pot instead of frying the beans again. That way you get all the nutrients from the beans and cut down on oil. Set the pan/beans on simmer until you get the consistency of refried beans you want, as in runny (lots of liquid) or thick (less liquid). This is usually the part where I add a little salt or pepper.
6.) Yay! Now you should have some scrumptious healthy refried beans. ¡Buen provecho!