Mexican Candy Made by White People Only
*I love leche quemada con nuez. This history is fascinating. VL
---
By Adán Merdrano, Adán's Blog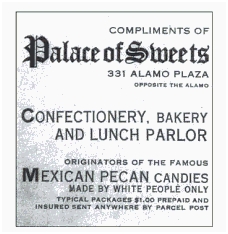 WHAT?
The Mexican candy advertisement above is from around 1915's -20's. The candy shop was owned by Clyde Corrigan, according to Sarah Gould archivist and researcher at Institute Of Texan Cultures in San Antonio, Texas.  It is discussed in the book chronicling segregation of Mexican-Americans, "A Place At The Table," by Maria Fleming (p.97).  Yes, even candy was a place of contestation.  I love this Mexican candy because it has  pecans (yum!).
Like all the native ingredients of Texas Mexican food, the pecan has a fascinating people history. It is Native to Texas and Mexico.  The trees grow all the way to Kentucky, Indiana, Iowa. Our Native American ancestors ate them constantly, sometimes grinding them.  I find it wonderful to read a 1709 report by the Spaniard, Isidro Félix de Espinosa,  that describes how Texas Indians would string the pecans together with thread as an edible clothing accessory.  There's a fashion statement you don't see (yet) at  New York's fashion week!
The Pecan has been the occasion for people to encounter each other.   But how to encounter the other?
Read more NewsTaco stories on Facebook. >>
There are two choices:  rejection or acceptance.  Texas Mexican history has been mainly one of rejection.  My hope is that food will lead us to acceptance and eventually to celebration.
Celebration is the part of cooking that I really love. Simply put, we enjoy food better when we eat it together, talk and share ideas and world views.
Have some fun. Make this candy, Dulce De Leche Quemada, and share it.  The ultimate "great idea" is for everyone to have a place at the table.  Especially when the dessert is this delicious Mexican pecan candy made by Mexicans!
NOTE: If you found my article helpful, I invite you to follow me on Twitter and Facebook, or subscribe below for updates (I'll email you new essays when I publish them).
This article was originally published in Adán's Blog.
---
[Photo courtesy of Adán's Blog]