Hispanic female first to reach rank of FL National Guard General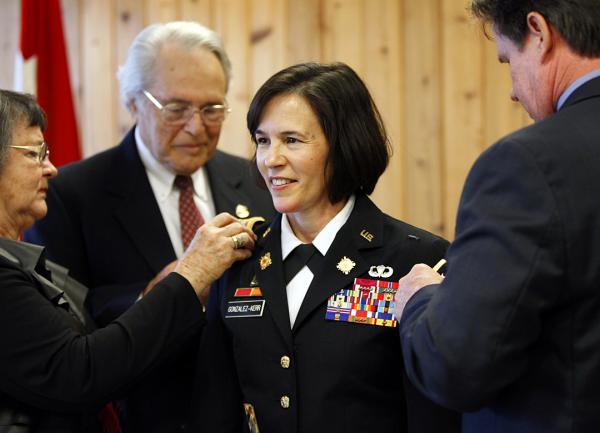 *This past week Colonel Valeria Gonzalez-Kerr was promoted to the rank of Brigadier General in the Florida National Guard, she'll be assigned as Assistant Adjutant General. General Gonzalez-Kerr has an impressive military record dating to 1984 when she was commissioned through the Reserve Officer Training Corps. She entered active duty in the U.S. army in 1986. VL
---
Historic City News celebrates appointment of the first Hispanic female to reach the rank of General in the Florida National Guard. Colonel Valeria Gonzalez-Kerr was installed Wednesday, November 25th, at St. Francis Barracks, located at 82 Marine Street in St. Augustine.
During the 10:00 a.m. ceremony, Gonzalez-Kerr was promoted to the rank of Brigadier General. Her assignment will be Assistant Adjutant General – Support for Florida.
Gonzalez-Kerr currently serves as the Florida Department of Military Affairs' State Quartermaster and the Florida National Guard's Assistant Adjutant General – Army.
General Gonzalez-Kerr began her military career in 1984 when she was commissioned a Second Lieutenant through the Reserve Officer Training Corps. She entered into active duty in the United States Army in 1986 as a Reserve Army Quartermaster Officer.
Click HERE to read the full story.
---
[Photo courtesy of  
St. Augustine.com
]