Six months from midterms, Latinos should pay more attention to voting, voting rights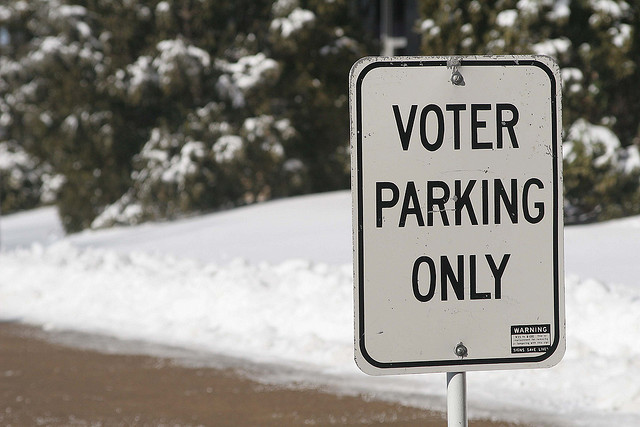 By Victor Landa, NewsTaco
Reports about immigration get a disproportionate amount of attention in Latino media and in the mainstream media's attempts to cover the Latino community – and deservedly so.  Immigration is one of the most important stories of our time, but it's not the only one. When you consider that 63 percent of Latinos in the country are U.S. born, other story lines vie for attention.
For instance, there are 25 million LVAP's. If you don't know what LVAP is, you're proving my point. LVAP is an acronym for Latino Voting Age Population. Think of it as raw political potential. It's the number of Latinos in the U.S. who are citizens of voting age.
Now, compare that potential with present reality: only 8 percent of the LVAP votes.
If  the number of LVAP that actually voted were higher, immigration might not be such a pressing issue – we could have more elected representatives in congress that favored comprehensive immigration reform. This is nothing new. I bring it up not so much for the sake of immigration, but for the sake of voting, to be specific, for the sake of voting rights.
Voting rights may well be one of the most important civil rights issues of our time, but it gets little play in the media. We hear about it when the Supreme Court renders the occasional voting rights decision, but this story is playing out regularly at the local level.
Here are two stories that merit attention in the Latino community because they deal with voting power dilution and voter suppression at a time when states are taking cues from each other as to how to proceed on voting rights.
The first story is from Florida, click on the headline to read the full article:
By David Damron, Orlando Sentinel
A federal voting-rights lawsuit begins Monday that pits Orange County commissioners against local Hispanic residents.
The plaintiffs, represented by the New York City-based civil-rights group LatinoJustice PRLDEF, allege that Orange leaders in 2011 crafted new political borders that diluted Hispanic voting strength.
Namely, they point to a District 3 seat that had been held by Hispanics in recent decades. And despite a surge in Latinos countywide during the past 10 years, District 3 actually saw its percentage of Hispanics drop after redistricting.
The second story is from Kansas, where the fight over voter ID continues, you can also click on the headline to read the piece:
WICHITA, Kan. (AP) — Kansas and Arizona residents can continue to register to vote for now using a federal form without having to provide proof of citizenship, a federal appeals court ruled Thursday.
The 10th Circuit Court of Appeals temporarily stayed a ruling from U.S. District Judge Eric Melgren that orders the U.S. Election Assistance Commission to modify its federal voter registration form to add special instructions for Arizona and Kansas residents about thosestates' proof-of-citizenship requirements.
Circuit Judges Carlos Lucero and Jerome Holmes granted the emergency stay sought Thursday by the commission and voting rights groups, a day after Melgren rejected a similar request to suspend his ruling during the appeal. Melgren had ordered the commission on Wednesday to carry out "without further delay" his March 19 directive.
The temporary halt is in effect until further order from the appeals court.
We're less than six months away from the midterm elections. Voting and voting rights should be getting more than the occasional and regional attention that it has been getting.
It's one of those "out of sight, out of mind" issues, where marches and media tailored actions attract the cameras and the ink, but the steadfast work of Latino legal and voter advocacy groups is seldom acknowledged.
This is important now, and shouldn't be relegated to a second tier of coverage.
[Photo
by Sara/Flickr]