Supreme Court to Hear Voting Rights Challenge Today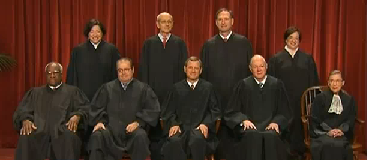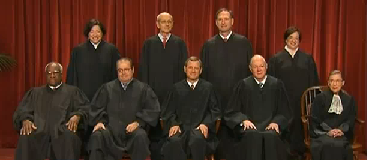 By Victor Landa, NewsTaco
We circled today's date on NewsTaco's calendar several months ago. Today is the day that the U. S. Supreme Court (SCOTUS) hears arguments in the case that will decide the future of the Voting Rights Act as we know it. It matters because the specific issue at hand has been used for decades by civil rights groups to defend the voting rights of Latino voters.
In short order, here are the important details:
The specific case before the Supreme Court is Shelby County v. Holder, that originated in the state of Alabama.

The law suit challenges the need for Section 5 of the Voting Rights Act.
Section 5 requires nine states (Alabama, Alaska, Arizona, Georgia, Louisiana, Mississippi, South Carolina, Texas and Virginia) and parts of others (California, Florida, Michigan, New York, New Hampshire, South Carolina and South Dakota) to get permission from the federal government before making changes to their voting processes.
The challenge to the Act claims that voter turnout has changed in the covered jurisdictions, and that the change is evidence that the country has moved past the violations that made them necessary. In other words, that minority voting rights in the covered jurisdictions no longer need to be defended.
There are nuances, and stark arguments on both sides. The case is not as simple as a four point bullet list. But it's the simplest of starts. Our endeavor at NewsTaco is to put issues and debates at your fingertips, to curate the discussion as it regards the U. S. Latino community.
This particular issue has been covered extensively in the national news bubble. At NewsTaco we've covered the issue at length as well. So with that in mind, here's a list of articles, opinion pieces and editorials about today's SCOTUS hearing that we've culled form today's publications. They're in no particular order of importance, I list 'em as I found 'em:
Voting Act Challenge Hinges on a Formula, New York Times
Supreme Court to weigh ongoing validity of voting rights law, Reuters
Supreme Court to hear challenge to Voting Rights Act, Washington Post
Judging the Voting Rights Act, Los Angeles Times Editorial
The Voting Rights Act's work isn't finished, Washington Post Editorial
Voting Rights Act isn't obsolete, Baltimore Sun Editorial
Force Behind Race-Law Rollback Efforts Talks Voting Rights Case, NPR
Has The U.S. Outgrown The Voting Rights Act?, NPR
Landmarks to civil rights converge on Capitol Hill, USA Today
What Is Alabama's Problem With the Voting Rights Act?, Colorlines 
GOP Rep. backs voting restrictions and Voting Rights Act, MSNBC
What Happens If The Voting Rights Act Loses In The Supreme Court, Think Progress
Rep. John Lewis defends Voting Rights Act, USA Today
Proposed changes to Voting Rights Act stir controversy in Alabama, CBS News
 Last Days of Voting Rights?, Daily Beast
Voting Rights Act: Is major portion outdated? Supreme Court to hear arguments, Christian Science Monitor
Who controls Voting Rights?, Reuters
Our Past Still Speaks: Re-examining the Voting Rights Act, PBS Newshour
[Photo courtesy
c-span
]