The Death of a Drug Lord — David Hidalgo, Jackson Browne & Los Cenzontles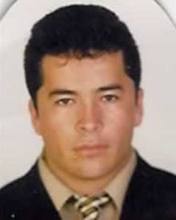 By Sam Quiñones, A Reporter's Blog
This morning's news that Heriberto Lazcano (pictured here), leader of the bloodthirsty Zeta drug cartel in Mexico, may have been killed by the Mexican military reminded me of a song by Los Cenzontles, the Mexican roots-music band from the Bay Area. (Update below: Lazcano's corpse stolen.)
The Silence was recorded in February in a session in Echo Park with David Hidalgo, from Los Lobos, who has the vocals on the track, and singer-songwriter Jackson Browne, who sings backup.
A great, elegant tune about Mexico's drug violence — one of the few songs whose achingly beautiful feel does some kind of justice to the tragedy.
The song is from the band's great new CD, Regeneration — for which (full disclosure) I wrote the liner notes. The album mixes norteno, a little sixties rock, some blues and funk — all in a really strong, bold sound.
The band started as part of a grant to get kids involved in music in the East Bay. Years later, it's an accomplished crew, having recorded several albums  and artists such as Hidalgo, Ry Cooder and Taj Mahal.
On a lower note, the Zetas started out as Mexican military special operations commandos and were paid to desert by Osiel Cardenas Guillen, then the leader of the Gulf Cartel, which ran the territory on the Mexican side of the Rio Grande Valley.
Cardenas, now doing 25 years in a US prison, hired them — 31 of them — as bodyguards. It took only a few years for them to realize that they could be a cartel as well. They branched off, recruited heavily among poor youth and returning deportees from the U.S. They formed new cells like amoeba, and became a fearsome force across Mexico and down into Guatemala.
See a Mexican military-issued photo of the corpse of Heriberto Lazcano.
UPDATE: Now there are reports that an armed squad of Zetas broke into the place where Lazcano's corpse was held and made off with it.
The drama of our times — not good for much, except art sometimes.
This article was first published in A Reporter's Blog.
Sam Quiñones has been a working reporter for 25 years, including 10 years in Mexico as a freelance writer. He is the author of two books, and many stories about immigrants, gangs, drug trafficking and more.
[Photo courtesy
A Reporter's Blog
]