The Libro-Traficante Caravan Hits The Road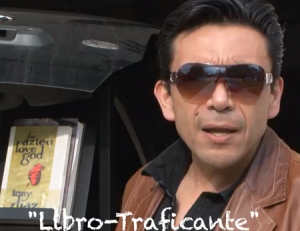 By Belinda Acosta
Librotraficante Caravan: Day 3—El Paso to Mesilla and Albuquerque, New Mexico
It's really quite amazing what a couple of laptops, three cell phones, an operational hotspot and an indefatigable spirit can do. Novelist and educator Tony Diaz may be the public voice of the Librotraficantes and their three-state caravan, but he's the first to say he's not the only voice. The team of Diaz, Liana Lopez, Laura Acosta, Bryan Parras and Lupe Mendez—with the aforementioned electronic equipment—has managed to negotiate logistics, organize a caravan, contact like-minded organizations in each Librotraficante Caravan stop and spread the word about the mission. The organizers' work has drawn coverage from media outlets in each caravan stop, as well as from CNN, MSNBC, Huffington Post, Al Jazeera, and the New York Times, not to mention the Texas Observer. And the list is growing.
Hours before arriving in Tucson on March 16, Lopez was balancing her laptop on her knees updating a press release, as the Librotraficantes charter bus sped down Interstate 10. The spotty hotspot service, not to mention the occasional bump in the road, was making her task challenging. Yet, she remained upbeat, pausing to accommodate a caravan member who had come to the front of the bus to charge her cell phone. (With only three available power sources, those outlets never went unused.) Lopez's cell phone didn't stopped ringing. So Acosta stepped in to field calls, calmly explaining that Lopez "was tied up. How can I help you?"
In the meantime, Diaz was being interviewed by phone or writing a blog post for Mamiverse about his Librotraficante Caravan experience [mamiverse.com]. After weeks of interviews leading up to the launch of the caravan and addressing audiences in Houston, San Antonio, El Paso and Mesilla and Albuquerque, New Mexico, Diaz was losing his voice, a few hundred miles from Tucson. Mendez's job that day was to keep Diaz quiet—no small task given Diaz's gift for speaking extemporaneously.
During the trip, Mendez, along with Parras and the rest of the Librotraficante crew, discussed logistics. But perhaps most importantly, in terms of getting their message out, they made sure the Librotraficantes who'd joined the caravan were able to speak cogently about the events that brought them together, and expressed the value of using social media, particularly Twitter.
"This is an example of new media saving old media," Diaz said of how harnessing Twitter and Facebook was one of the many ways the Librotraficantes connected with groups along the caravan route. The result of all this earnest, behind-the-scenes work is one of the reasons the Banned Books Bash in San Antonio, El Paso and Albuquerque were hugely successful. It was standing room only at the National Hispanic Cultural Center, for the Albuquerque Book Bash on March 15. About 500 gathered to hear readings by local writers Tony Mares, Tanaya Winder, Levi Romero and others. Earlier that day, Chicana author Denise Chávez hosted a luncheon for the Librotraficantes in Mesilla. The extraordinarily charming village is home to Chávez, where she runs the Mesilla Cultural Center and Bookstore and coordinates the Border Book Festival, now in its 17th year. [borderbookfestival.org]. She donated several boxes of books for delivery to Tucson. Fifteen percent of book sales at the Albuquerque Book Bash were donated to the Librotraficante Caravan. Gifts of books and money will be used to seed the four inaugural Librotraficante Underground libraries. The libraries will initially be stocked with titles pulled from Tucson high school classrooms when a state law precipitated the shuttering of ethnic studies programs on the grounds that they promoted hatred and division. The four Librotraficante libraries are based in Houston (MECA, Multicultural Education and Counseling Through the Arts), San Antonio (Southwest Workers' Union), Albuquerque (Los Jardines Institute) and Tucson (John Valenzuela Youth Center.)
At each Banned Book Bash, Diaz told audiences they were now deputy Librotraficantes. People took this label to heart, as books were delivered by hand, in boxes and bags, or by cash donations. This outpouring of support created another logistical problem for the team to solve. When it came time to leave Albuquerque for Tucson, Parras and Mendez, (tasked with sorting the literary cargo) worried that there was not enough room for books and caravan members' luggage. Some creative re-packing solved the problem. Another bump in the road averted…[Read the rest of the story here] [Screenshot By  hightechaztec]