Today Is Frida Kahlo's Birthday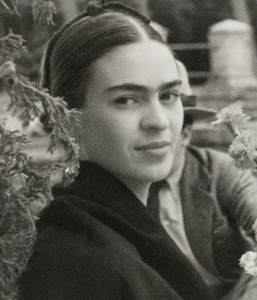 If you grew up Latino in the U.S., then you have to know who Frida Kahlo is — it's like a law. I remember, from the time I was young, those iconic images everywhere. And since today, July 6, is Frida Kahlo's birthday, I'm happy to say that I've finally come to appreciate her.
I've seen her paintings in real life, visited her blue house in Coyoacán and read some of her writing, and now I have to say the best thing I like about her is that she was a real woman. Although her art is beautiful, it's not necessarily my favorite, but I admire that she was such a strong, amazing, artistic, creative and thoughtful spirit.
Even if you haven't seen the movie version of her life, Kahlo lived an amazing life, even though she had polio and a bad traffic accident when she was young, affecting her physically for her entire life. She was never able to have children. She was a painter, activist, a woman, a proud mexicana, a legend and much more. Here's a bio if you're interested.
How are you celebrating Frida Kahlo's birthday today?
Follow Sara Inés Calderón on Twitter @SaraChicaD
[Video By
reroto
; Photo By
libbyrosof
]